Last year, I was commissioned to make a quilt rather different from any I've ever made. My client wanted to me to create a quilt for the new baby of a librarian that included some favorite classic children's titles. Anytime I'm asked to create a quilt, I try to come up with something unique. Thanks to a great pattern (the Book Nerd quilt by Angela Pingel) and a machine that allows me to do custom embroidery, I was able to make a one of a kind quilt for a new little babe. The pattern involves foundation paper piecing, which means that the main blocks come together by sewing onto premarked sheets of paper.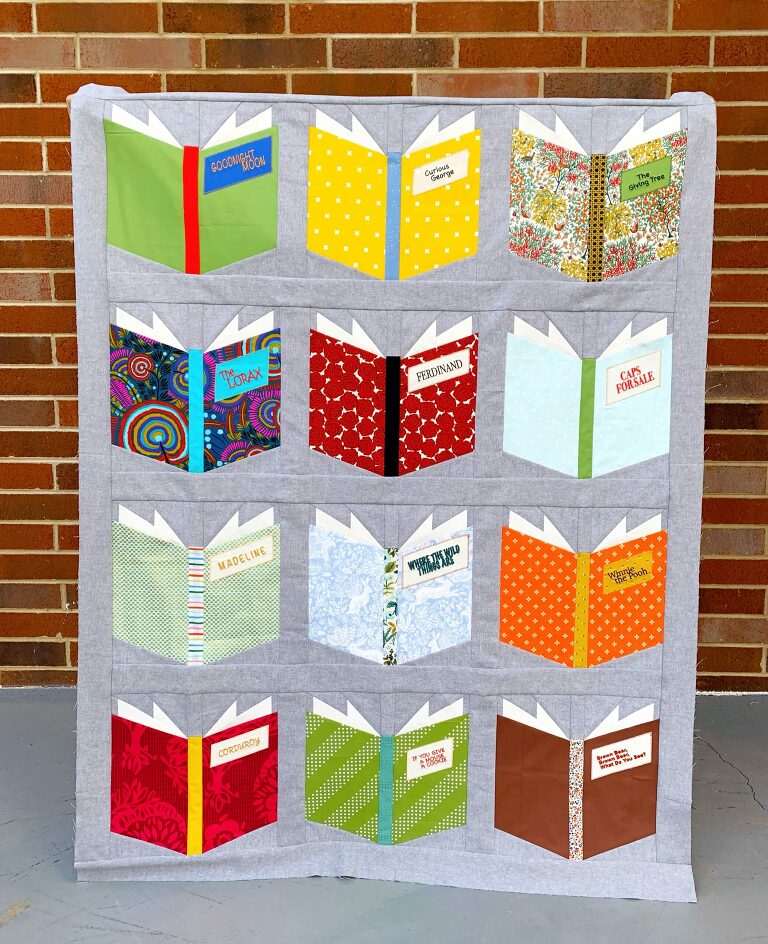 I used the Janome Skyline S9 to create this quilt top. This machine is a real treat to work with as it features both standard sewing features (though basic would certainly not be the word to describe those features) and embroidery. There are a host of built in stitches for letters and other designs, and the embroidery side of the machine also has a bunch of built in designs including many from the one and only Anna Maria Horner. 
For this quilt, I created my own embroidery designs on Janome's Artistic software on my computer, and I tried to mimic the fonts (or just the general vibe) of the books I was recreating with fabric. To do this, all I had to do was create the designs, save them to my USB drive, and plug it into the Skyline S9. It also has wifi capability, but at the time, we didn't have wifi in our house. In all, I embroidered twelve titles in different styles and colors according to the book I was working on.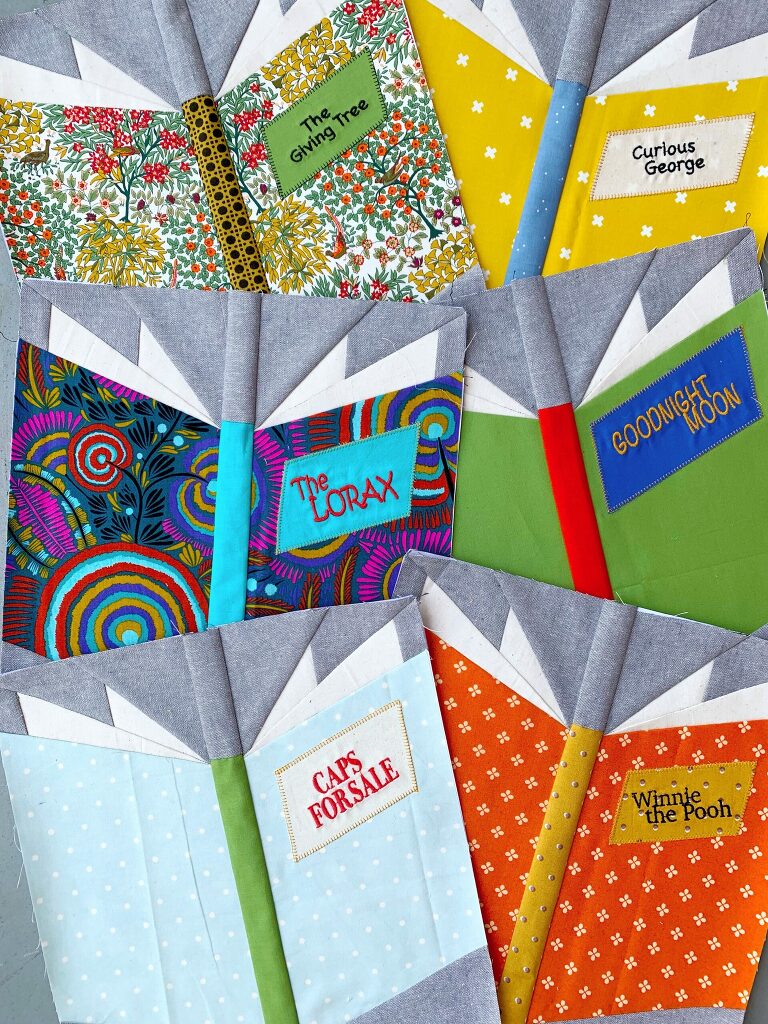 I wish I would have taken photos of the whole process, but I'm happy to share that I'll be doing a tutorial soon that shows you how to create your own designs using the Artistic software and then embroidering them on the machine. Its really quite simple, and I love that I can so easily transition between embroidery and sewing! I used an appliqué stitch on the sewing function of the machine to attach each embroidered title to its corresponding book cover.
Each of the books you see here was made with various quilt weight cottons, and the colors were chosen to reflect the styles of the original classics without copying directly and without using any character themed prints. For instance, for The Lorax, I used an Anna Maria Horner fabric with a design that resembled truffula trees. On some other books, I stuck with solid or semi solid colors. The background fabric is Kaufman Essex linen.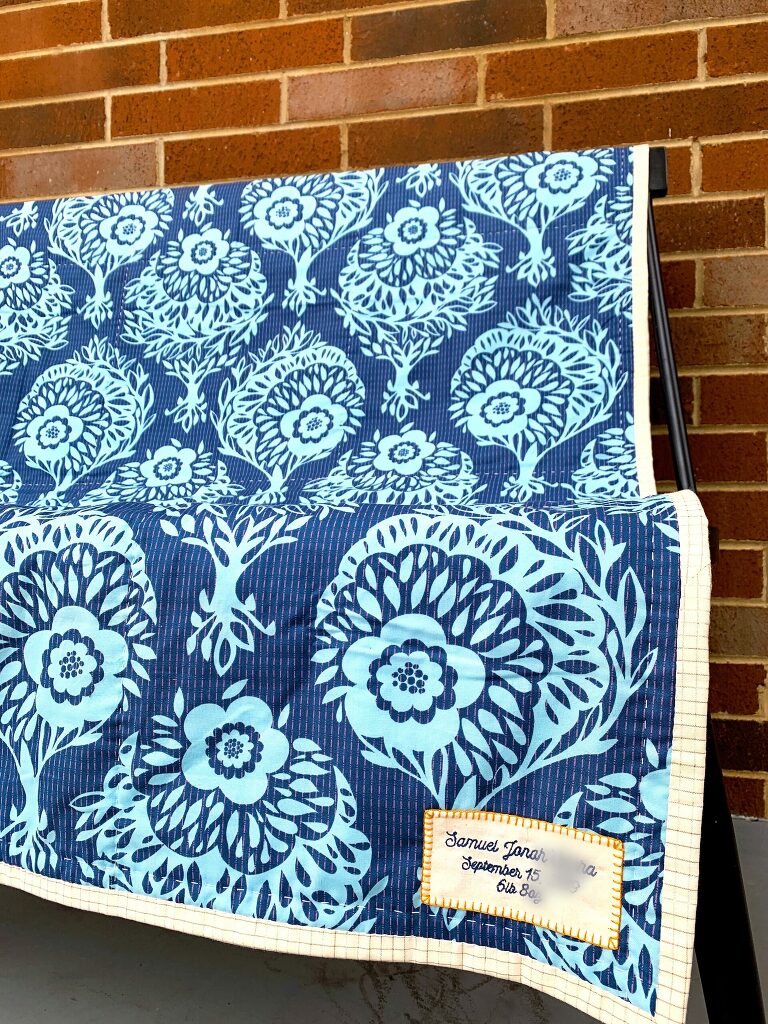 The back of the quilt is an old Anna Maria Horner print called Woodcut. It's a long time favorite of mine and actually came from my personal collection. I don't generally pull from my personal collection for commissioned quilts, but it was too perfect to pass up on this quilt! As always, this was quilted by hand using DMC Perle cotton in size 8. The binding is a warm white fabric with a metallic golden grid from Anna Maria's Loominous collection of fabrics.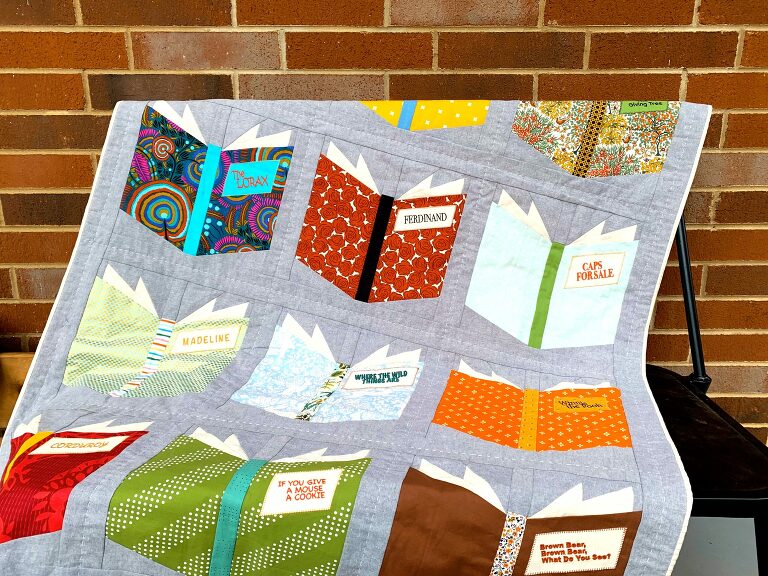 I also used the Skyline S9 and Artistic software to make a label for the quilt, then attached it to the quilt back by hand. I love that this machine adds so much versatility to my sewing! I can add so much more to my projects using embroidery. You can check out other projects I've made with my S9 right here!