What is your favorite sort of crafting? What is it yields the greatest reward? Is it the kind that you give to others, one that makes happy customers, or perhaps what you get to use yourself?
I think the most freeing sort of crafting for me is making gifts. I love every kind of sewing, but sewing for others- especially when its a surprise- brings me such joy. With a few people who are very dear to me, I strive to gift unique things that either they will appreciate for what it is, or perhaps because it just screams "them". With the project I'm showing you today, I was able to spend a good amount of time creating something totally new from bits of the originals.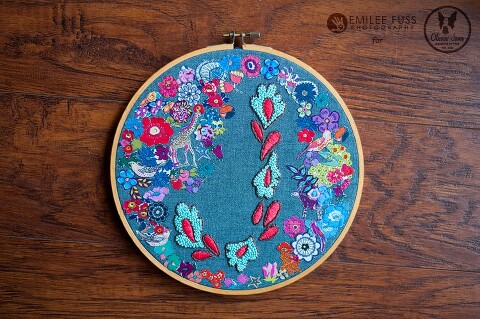 I made this hoop with embroidery and little bits of carefully cut Liberty fabric for a very dear friend of mine. I began with a "J" from Anna Maria's Love from A to Z pattern, and filled it in with satin stitching and a flurry of French knots, all encased with a stem stitch. I couldn't leave it at that, so I tossed around ideas of adding some sort of floral motif. I wanted a little mixed media, so I really wasn't looking to embroider a ton of flowers. Then I thought of cutting out bits of Liberty and placing them here and there. I began with a few, and was amazed at the different look those flowers took on when paired closely with others from different prints. Right before my eyes, it became a beautiful array of floral bouquets in an open market- refreshing and so very vibrant. It was exactly the work I had imagined, and then some.
After cutting those tiny pieces, I arranged them and temporarily held them in place with a glue stick. I then used some 28 wt Aurifil, and stitched each flower (and animal) down.
The back needed to be beautiful, so once I was done with the fronts work, I layered it with a gorgeous floral print from Alison Glass's Field Day collection, and glued it in place on the frame.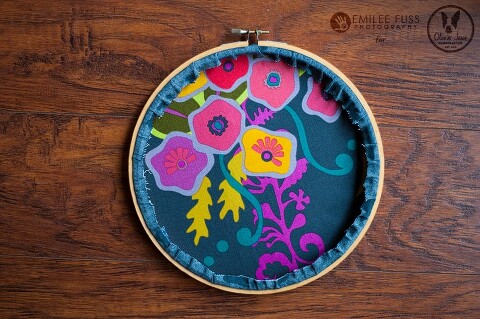 Its only an 8″ hoop, but I love the small details that could be packed onto it. My friend loved it, and I'm so happy to have been able to make something so unique for someone so special to me. Every second was an adventure!
I do hope the New Year is treating you well. Mine has been the biggest blessing so far, and I'm looking foward to the rest of 2015.
Have a beautiful weekend!
-Meredith