If there is anything that will make you consider your wardrobe options, it is certainly pregnancy and nursing! I forgot just how long nursing lasts that one must have the appropriate apparel. For me, this left me with mostly The Office or band themed t-shirts, both of which I've heard are not adult appropriate for leaving the house. I totally still do, okay? Still, most of my adult appropriate wear-out-of-the-house wardrobe is made up of button-down shirts, which are perfectly nursing friendly, but still kind of fiddly and can leave me more exposed than I want to be since I don't ever use a nursing cover. And I realize there is no rule to nursing, so you do you. I will feed my child anytime and anywhere, its just my preference to avoid any onlookers so I prefer a pull-up option because I feel more covered that way and people are out of my bizness.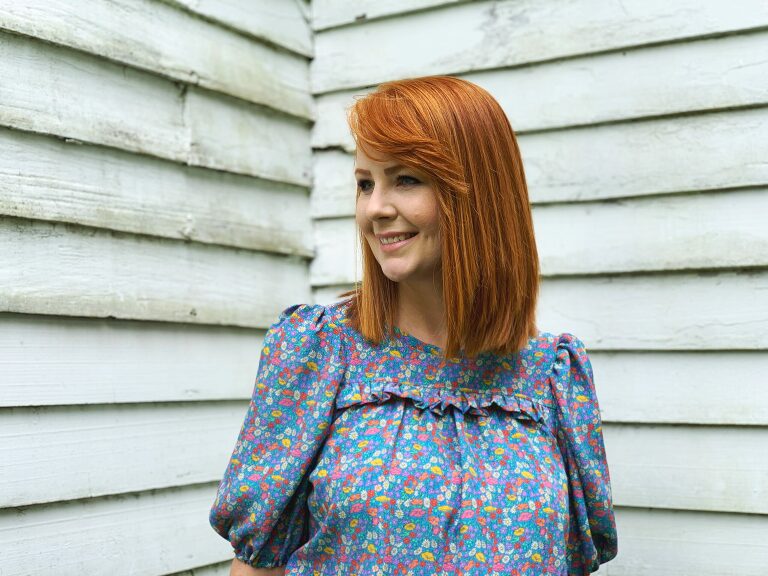 Enter the Sagebrush Top by Friday Pattern Company.
I stumbled across this top on Instagram, and I immediately loved it. It's loose enough to be easily pulled up for nursing; it is swingy and swooshy and so utterly feminine. And the puff sleeves! I loved the blouse so much, I immediately bought it and grabbed a cut of Liberty crepe de chine (which is silk crepe) that I had purchased as a special treat to myself to make a different something, but suddenly it seemed so perfect for this pattern. Also, without my standard uniform of Liberty button-downs I have felt rather plain, so spicing up a nursing friendly pattern with some flowers was a major bonus.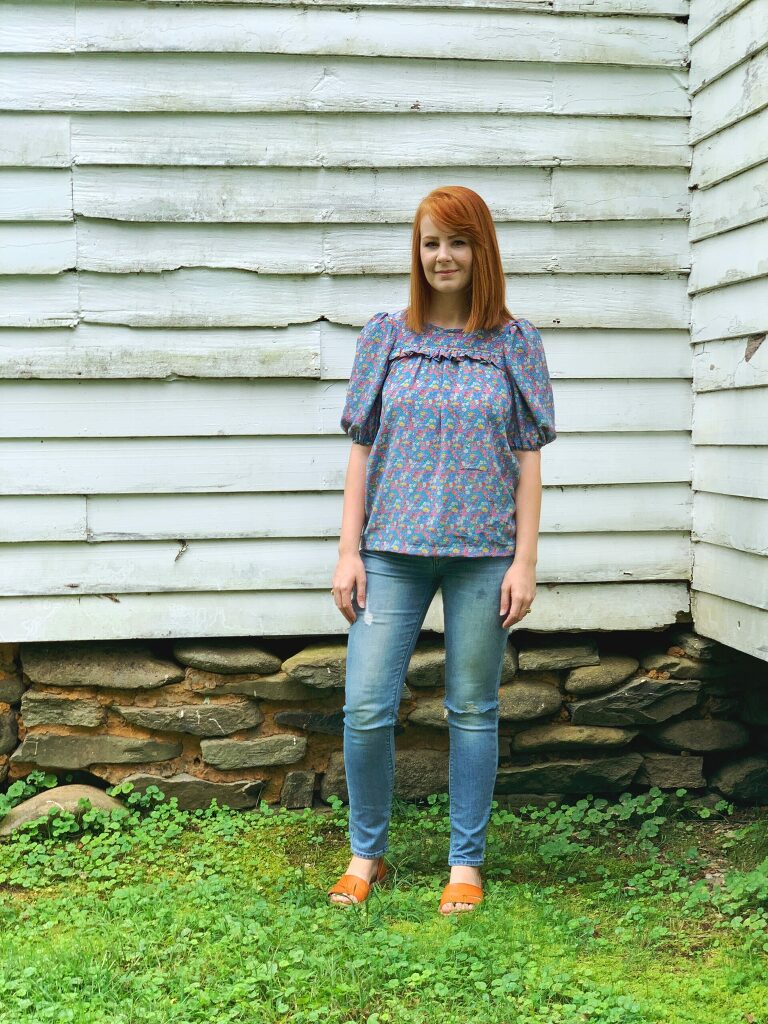 the baby was good enough to slobber all over my jeans just prior to these photos
I think I had a yard and a half of the fabric, and it was just enough to squeeze out this top. I pieced together like four strips to make the bias cut binding around the neckline which wasn't a big deal since I normally piece together bias binding to reduce waste.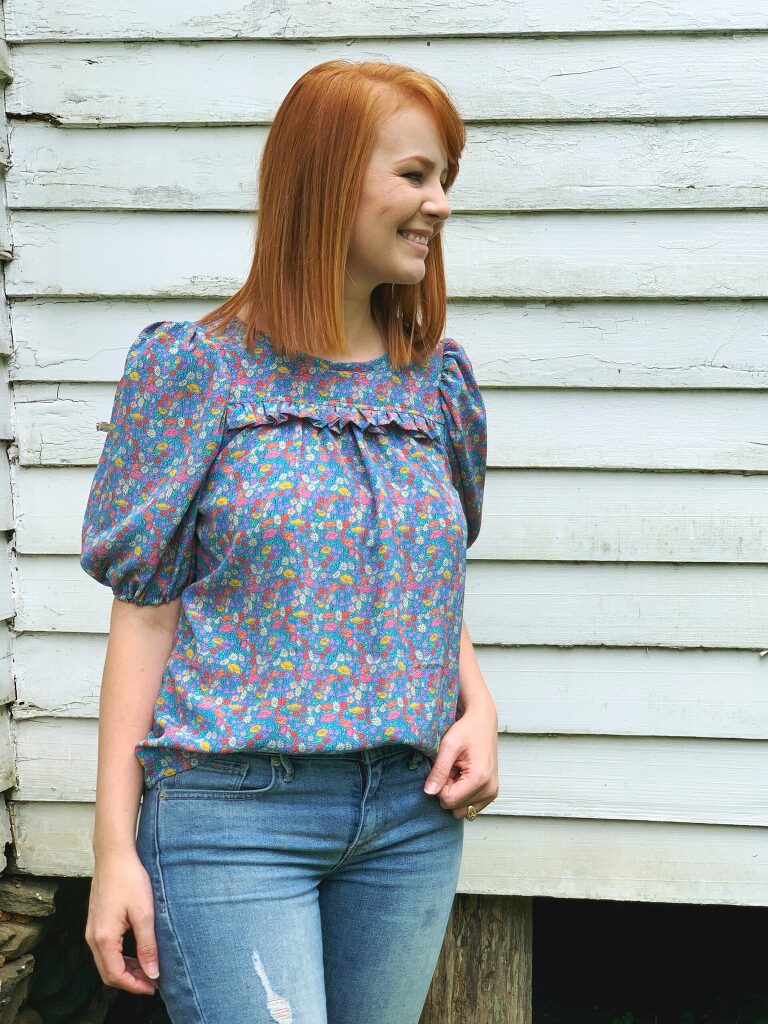 This top can be worn untucked and swingy which balances out my generous hips, or it can easily be tucked in which ups the chic factor. I love it both ways!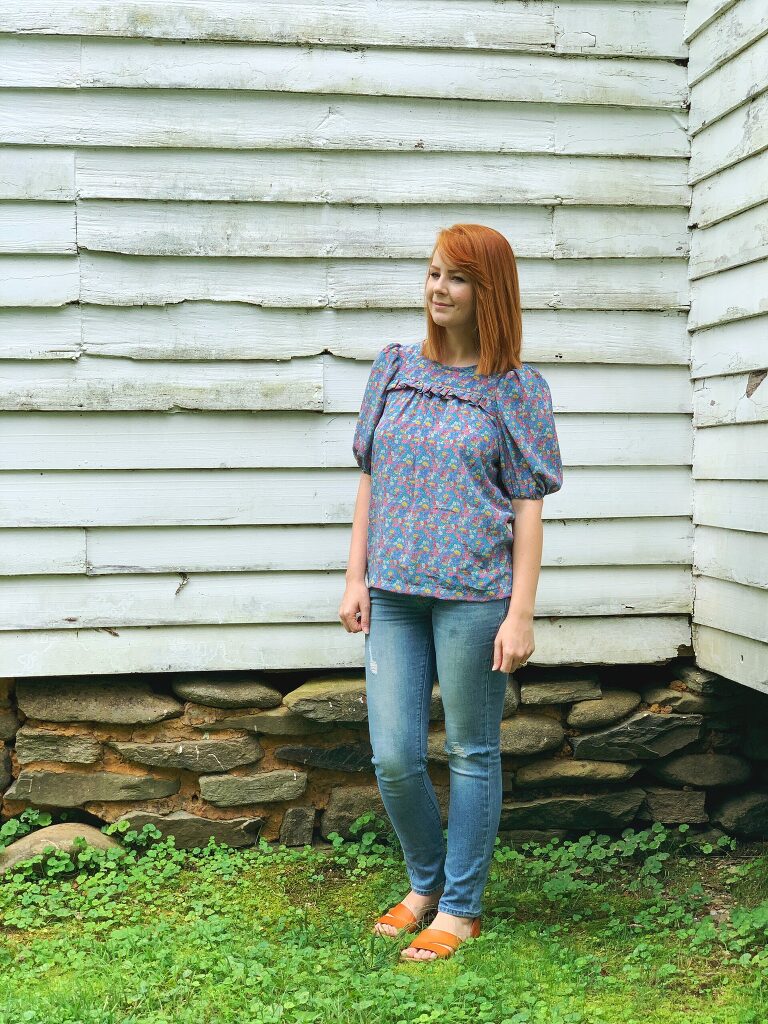 The crepe de chine is really the perfect option for this pattern because it has such lovely drape and moves so well with the body. This is the first time I've used Liberty's crepe de chine, and I was very pleased with it. I have sewn with their silk satin before, but this was actually much less fiddly. I just made sure that everything was lined up before cutting with my rotary cutter, which is always my preferred method by the way, and it all went swimmingly.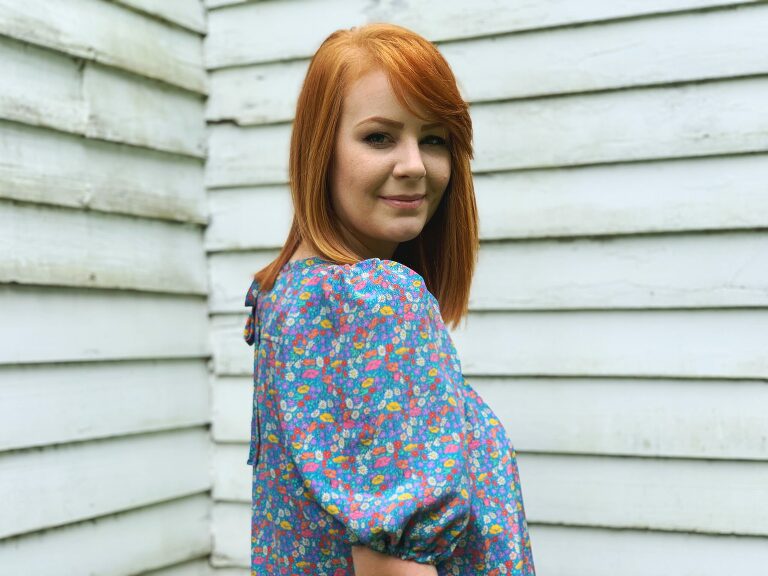 Don't you love this ruffle? I wasn't sure if it would suit me especially well, but I quite like it. Combined with the gathered puff sleeves, it is so purely feminine.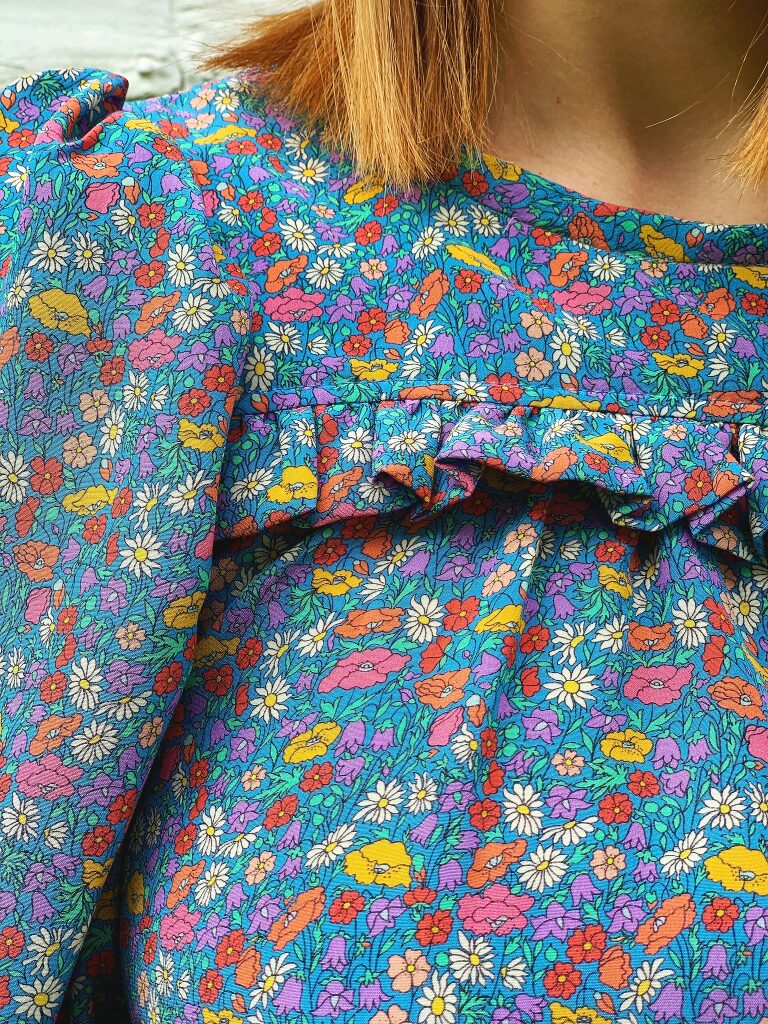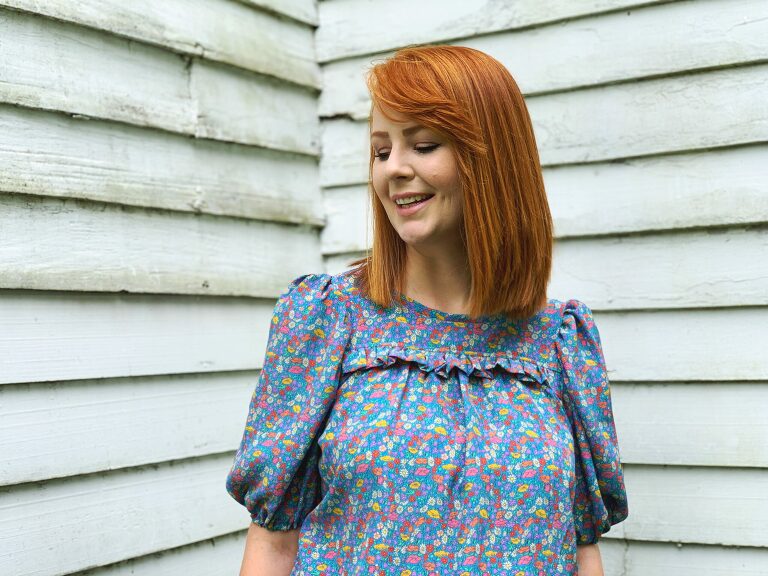 The back is closed at the neckline with a tie, though one could easy add a hook and eye or button closure. I even saw a version with the front and back yoke reversed so that the tie was in the front, and that was super cute! I may try that on a future version and eliminate the ruffle so there's not too much going on in the front. Though too much is really in the eye of the beholder, don't you think? I bet someone out there thinks I have too many floral outfits, and I think that's just nuts. :)
I told you this fabric was a special treat to myself, and it certainly was. I think I got it with Christmas money? It is called Poppy Park and I got it from Jones & Vandermeer, and they actually have a few different Liberty silks at the moment. You can browse all of their options here.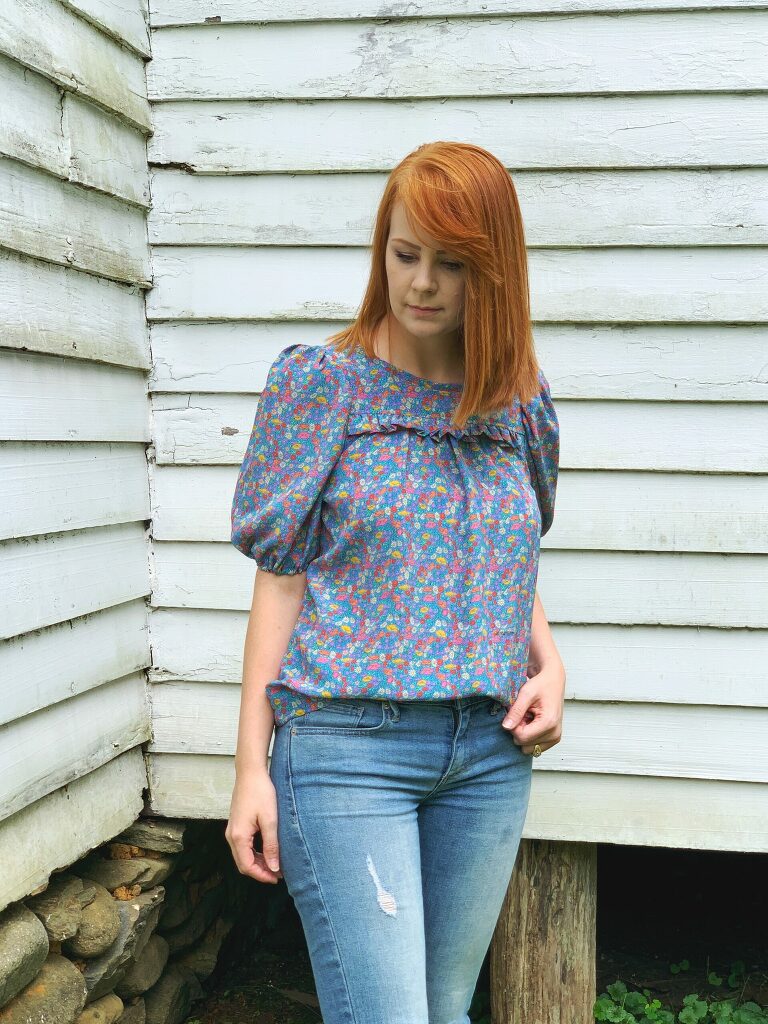 This top is already getting a lot of love from me, and I've gone though the fabrics I have on hand to find more drapey prints to use with this pattern. Call me simple, call me shallow, but wearing something bright and pretty makes me feel more ME and I think that's important when the body is in constant transition.
I will see meet you back here next week for a very indulgent tutorial!
-Meredith