Sewing with children is a subject I get a lot of inquiries about. What are some good projects? How do you get started? How old should my child be?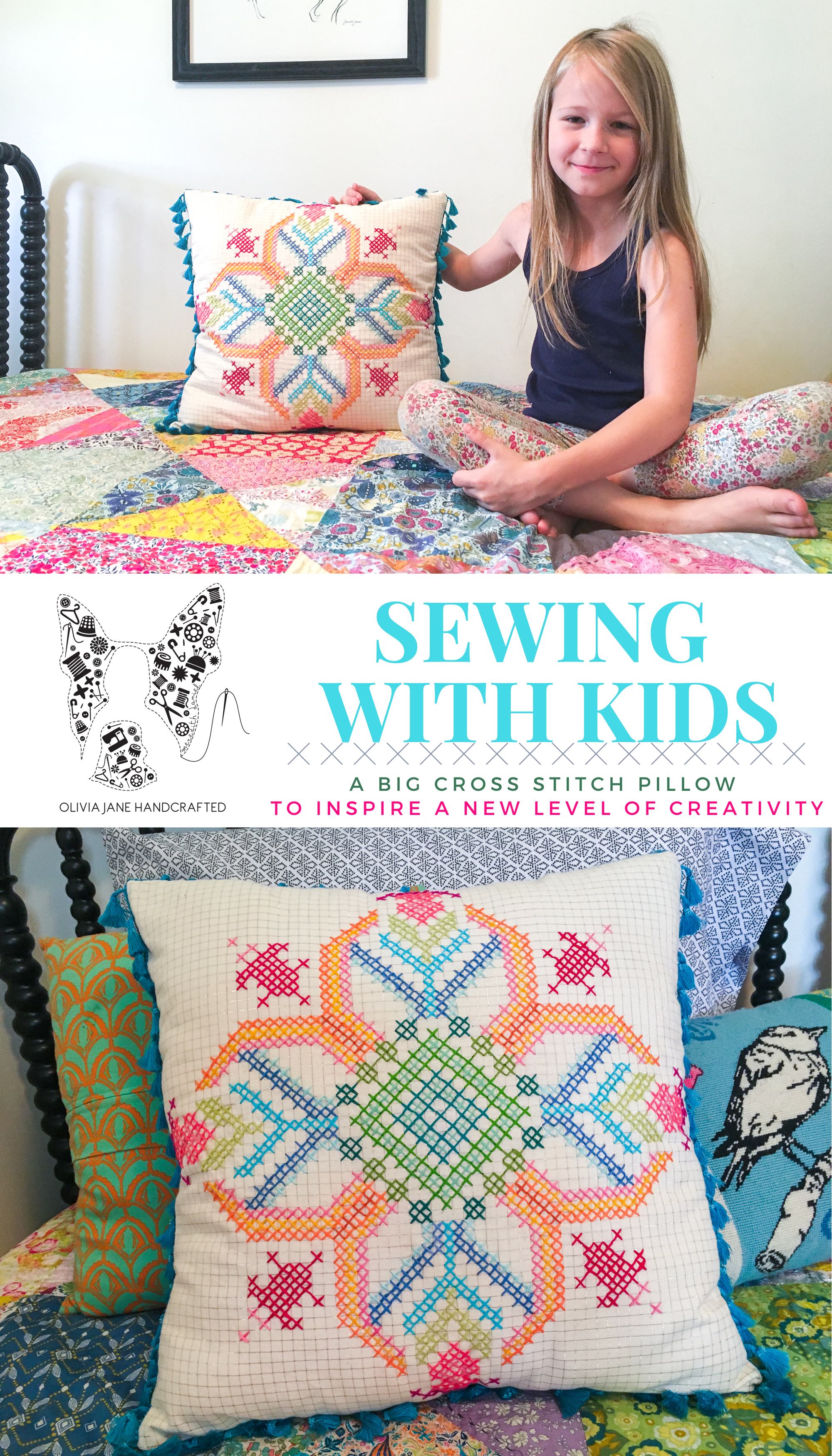 Well I'm excited to tell you that I'm going to be doing regular installments about sewing with children. We will discuss the project and why it was chosen, the difficulty, and so on. Today, Layla is going to kick off the series with an interview, and I'm excited for you to hear about her project! She will be going live on Facebook at 3pm EST (all her idea!) to chat about it some more. We are really excited to bring this series to you and hope that it will encourage a creative discourse in your own home or classroom.
Meredith: Tell us a little about yourself. How old are you? What is your favorite color? What is your favorite thing to do?
Layla: I am eight years old and my favorite color is blue. My favorite animal is a thoroughbred horse. My favorite things to do are stitch, and sew, and color, and draw things.
Meredith: Let's talk about your awesome new project. What do you have to show us today?
Layla: I'm showing you a big cross stitch pillow. Me and my mom had a fun time making it when my dad and brothers went camping. It uses fabric with a grid, which makes the cross stitches bigger, and even more fun!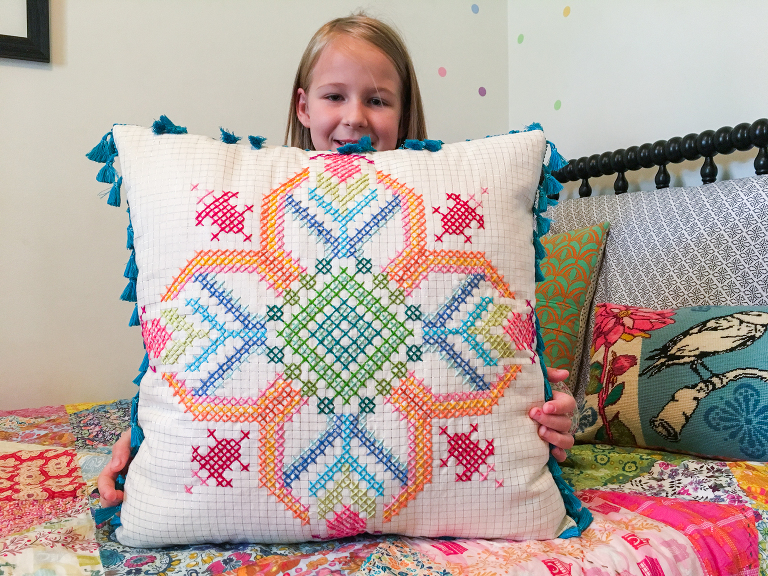 Meredith: That's great! What made you decide to make this pillow?
Layla: Because I love cross stitching and my mom showed me a picture of a big cross stitch pillow that Mrs. Anna Maria did at Quilt Market.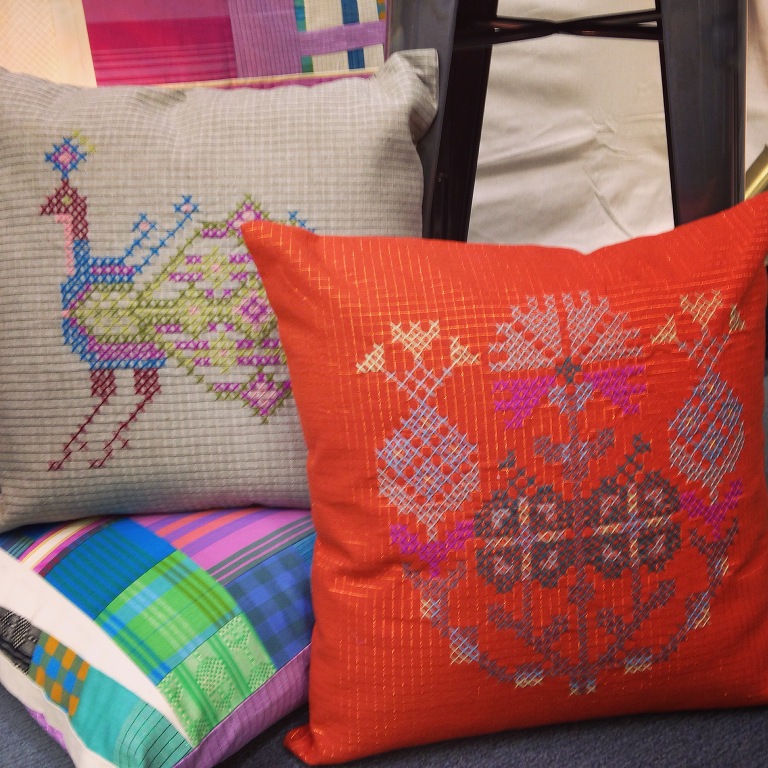 Meredith: Where did you get the cross stitch pattern that you used?
Layla: Mrs. Anna Maria's Needleworks Notebook. *link below*
Meredith: Tell me about the process. Why did you choose this fabric?  Did you do anything to it before you started stitching?
Layla: I had to have a fabric with a grid, so I could use it to make the stitches. I loved this fabric because of the glittery lines. Before I started stitching, we had to cut the fabric stabilize it with some interfacing. We cut a 20″ square.
Meredith: What part of pattern did you start with and why?
Layla: The middle because it's the easiest part to start with. I start at the middle and then everything branches off of it. It also helps me make sure the stitching is placed just right so I don't run out of fabric.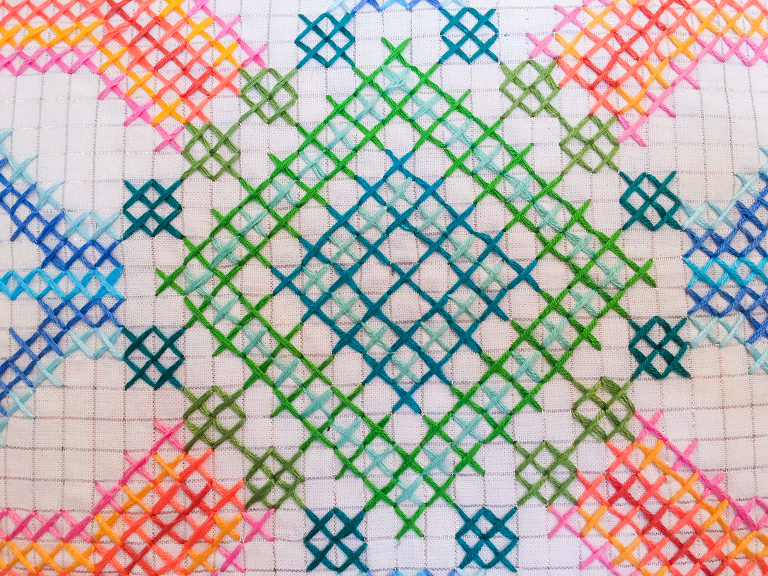 Meredith: That's really smart. Do you have a favorite section of stitching?
Layla: Yes! I liked starting it, and I was so excited to make it, so the middle is my favorite part.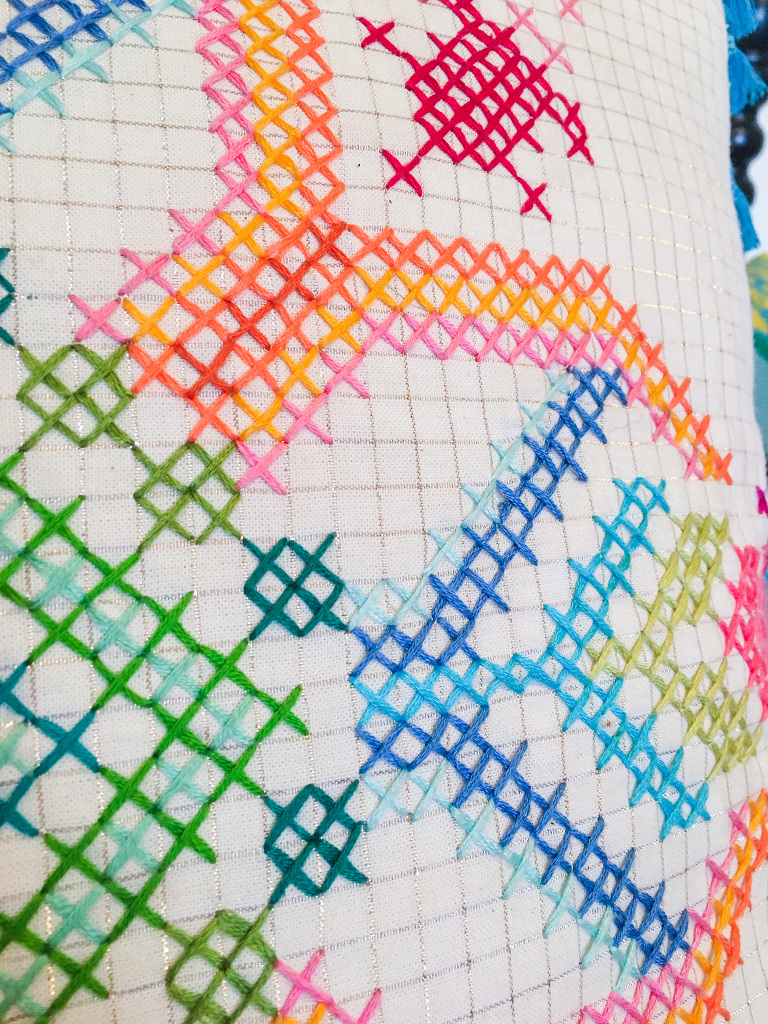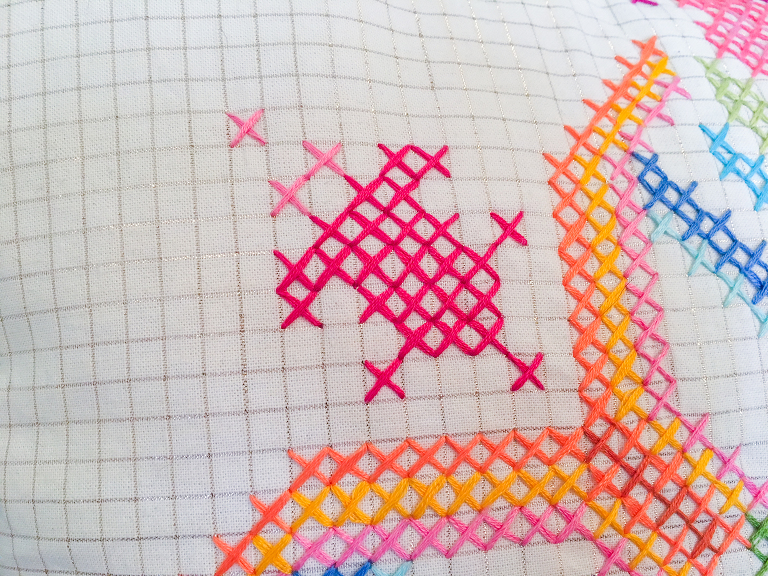 Meredith: I love that too. Its very beautiful! You started doing cross stitch on a much smaller, normal scale. Was this different? Was it easier or harder to do?
Layla: Yeah, it was different because the cross stitches are much bigger compared to my little peacock. Because this is bigger, you use all six strands of the embroidery floss, and you use much more of it. Its also easier to see the grid a lot better on the fabric versus regular cross stitch.
Meredith: Talk me through the steps we took to sew your work into a pillow once you were finished with all the hand stitching.
Layla: Well, first we trimmed the fabric down so it was 18.5″ square. Then we used some pins to keep the tassels in place so we could sew them on. We also had to pick a fabric for the back. I chose this one because it's really gorgeous. We also chose a purple zipper for the closure, and mom helped me sew the zipper in. We pinned the front and back together and sewed all the way around the pillow, and turned it out through the opening at the zipper.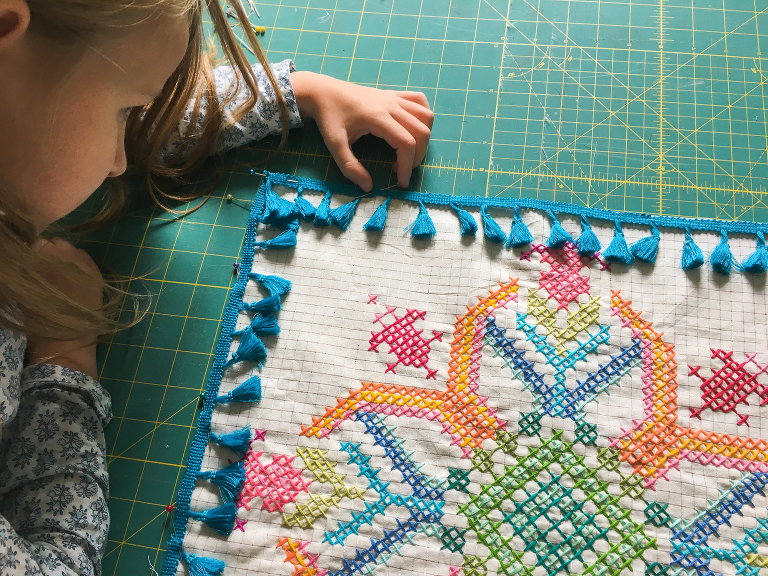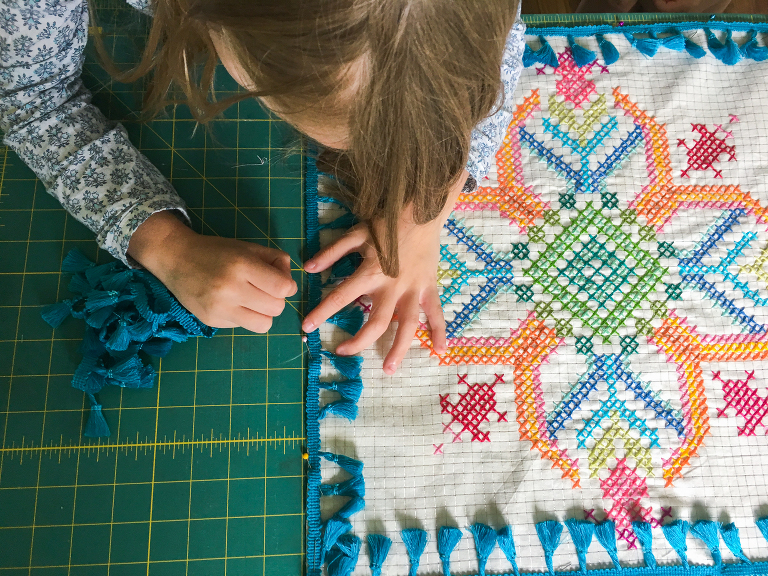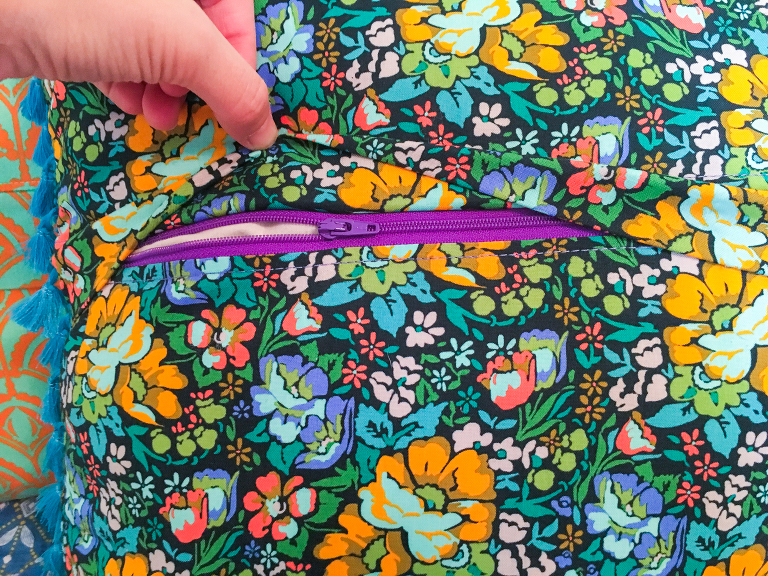 Meredith: How did you like sewing in the tassels?
Layla: I loved it! We used my mom's Janome and I followed the guide on the foot. My mom helped me keep the fabric still, and I removed all the pins before they went under the needle.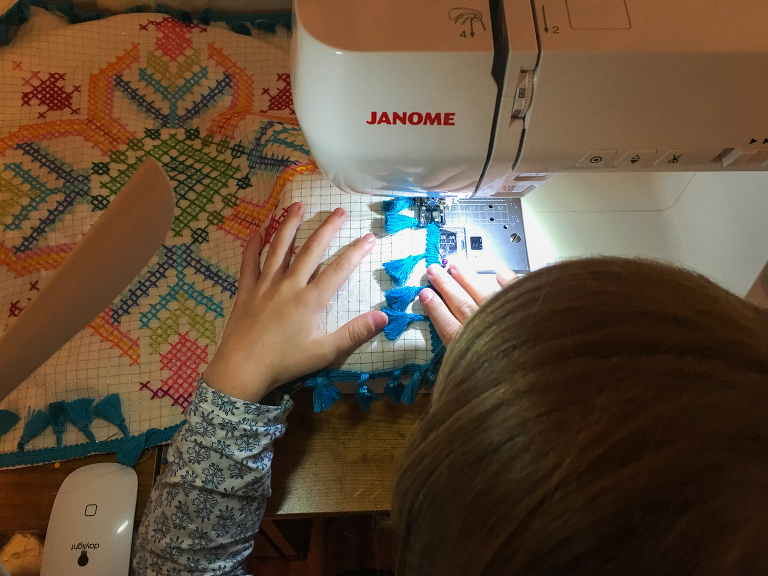 Meredith: Are you excited to have it finished up? Would you recommend this project to other children who want to do some stitching?
Layla: Yeah, I'm very excited! And yes! I would love to tell other kids about it.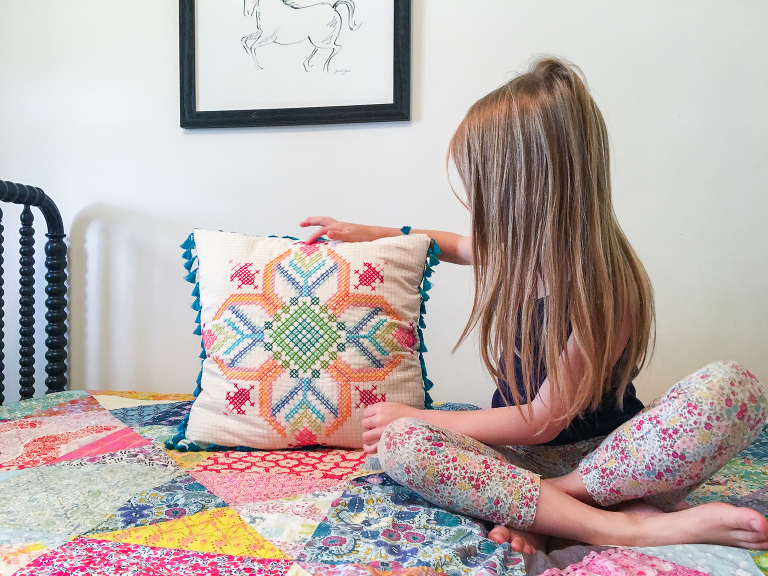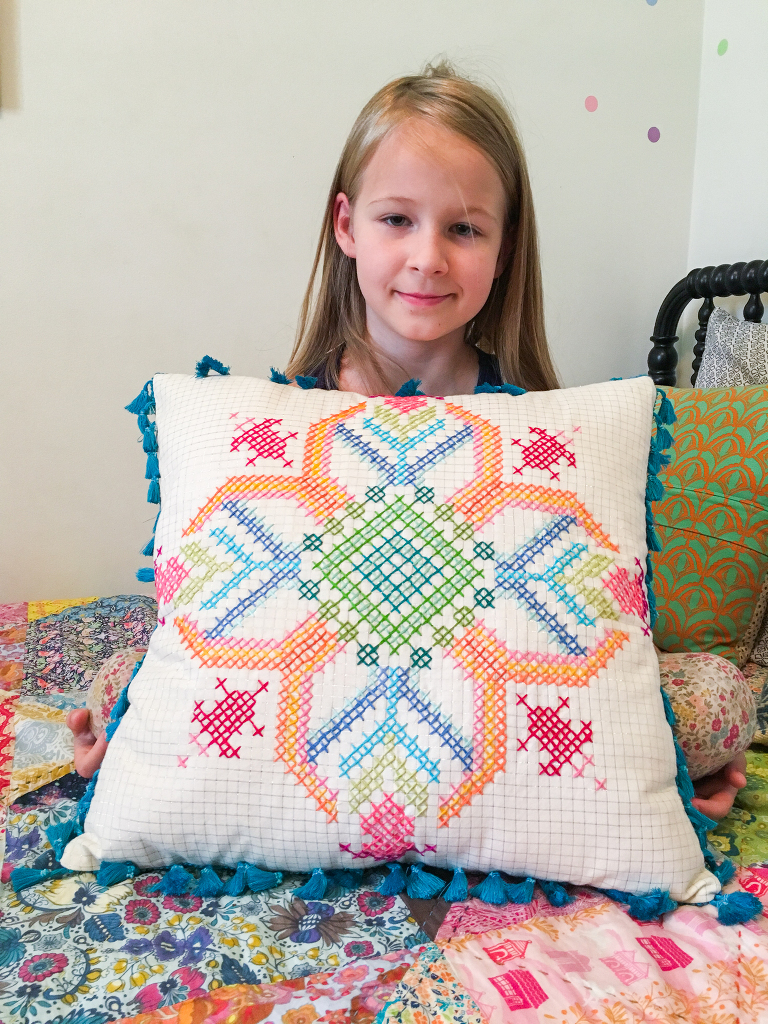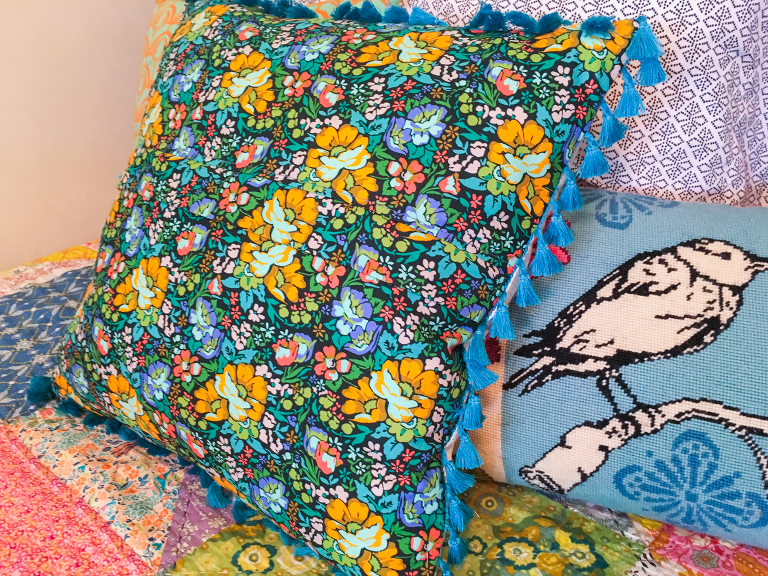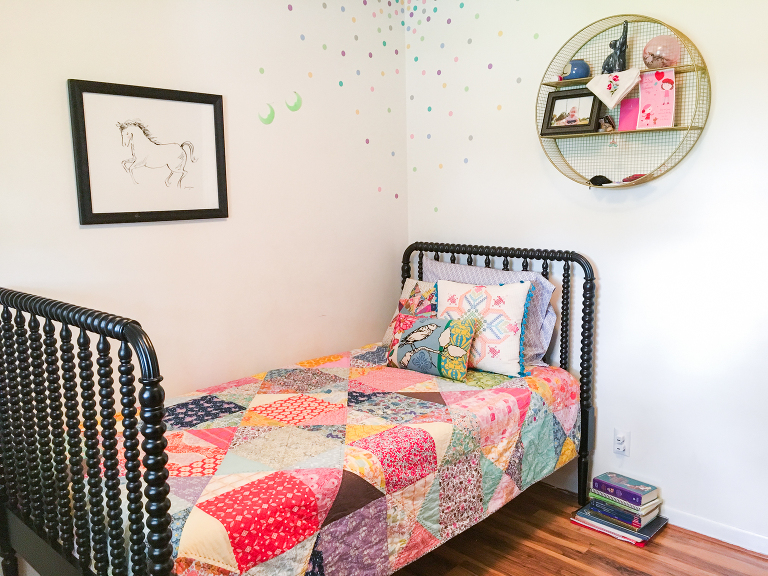 Meredith: What is next on your sewing to do list?
Layla: I want to make my own bed quilt. I have some beautiful fabric for it already, but I had to wait to finish my pillow first!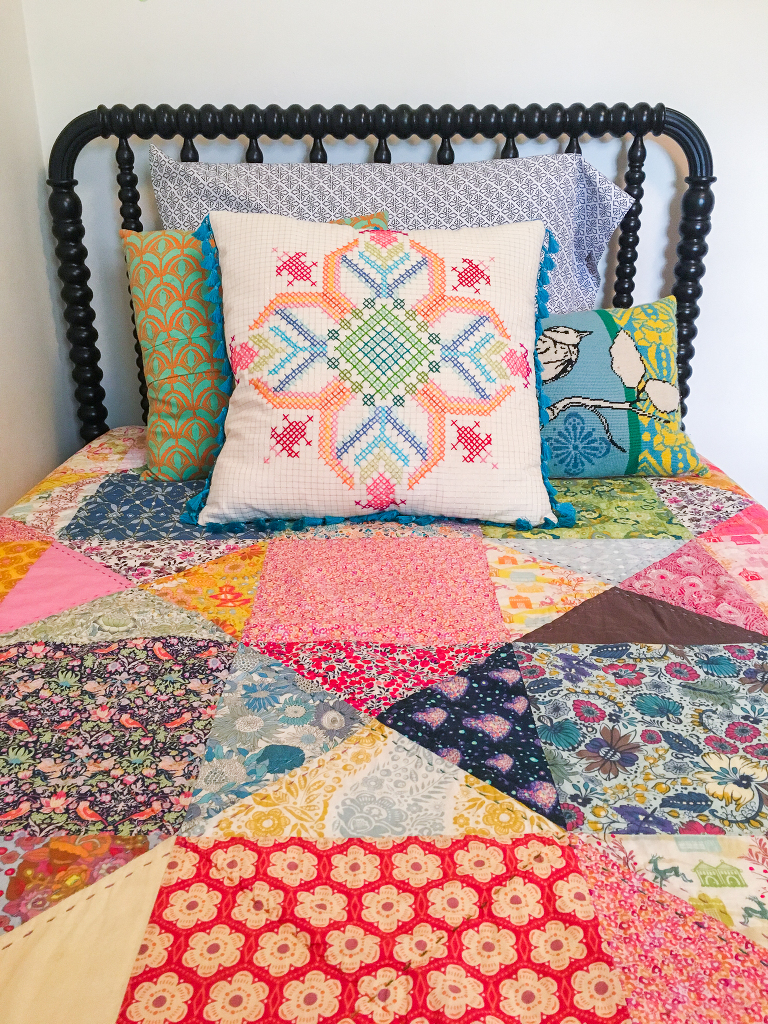 I hope Layla's project inspires you as much as it inspires me. I've asked her to please make one for me because its so pretty!
Here are a few more details about this project:
We used Anna Maria's Needleworks Notebook for the cross stitch pattern. I taught a group of 6-9 year olds to do all sorts of hand stitching this last school year, and this book was certainly the favorite source of inspiration for my students. Of the craft books I own, this is in my top two and I reference it all the time. Cannot recommend this enough whether you are young or old, seasoned or new to hand work.
Layla used this 6″ hoop. I prefer this hoop to any other because its secure and won't break like wood can from over tightening.
To assemble the pillow, she stitched on my Janome M100 which I have reviewed many times on here. If I've said it once, I've said it a thousand times. This machine is the best all-around, practical machine I have ever used. It is perfect for beginners and seasoned sewists alike, and it has every single stitch you need without anything silly that you would rarely, if ever, use unless you are heavily involved in a niche craft. This machine was a limited run, and is becoming hard to find, so if you are in the market, definitely jump on this one! Here's a link for a steal of a deal with extras.
The main fabric is a metallic gold grid from Anna Maria's Loominous collection, and the floral print on the back is from her Honor Roll collection.
The amazing tassel fringe (which can be so darn difficult to find!) is from Jones & Vandermeer. They have several colors and its quality stuff.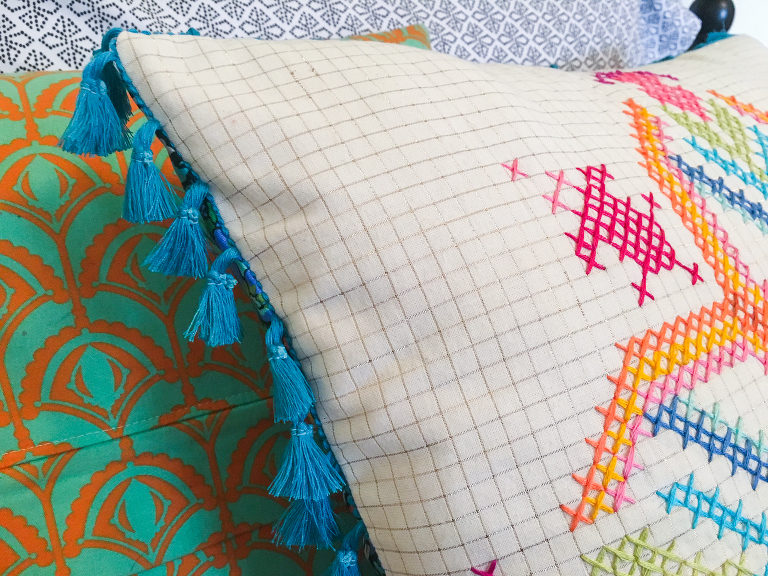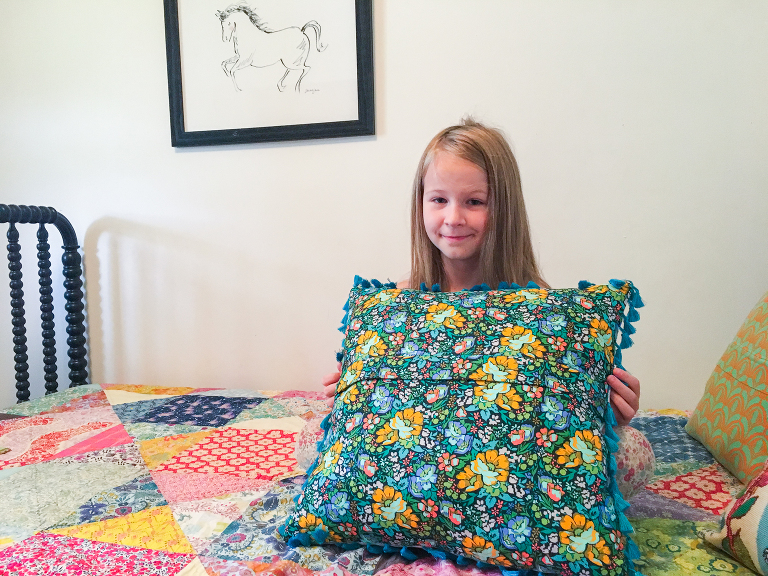 I think that about wraps it up. We will see you back here soon with our next installment of Sewing with Kids. If you have any questions, please feel free to leave me a comment below. If you have any project suggestions for us, or any ideas you'd like to see, please let me know that in the comments as well. We are really excited to bring you this series, and we sincerely hope it will inspire the next generation to dive in and know their minds and hands can create beautiful things with needle and thread!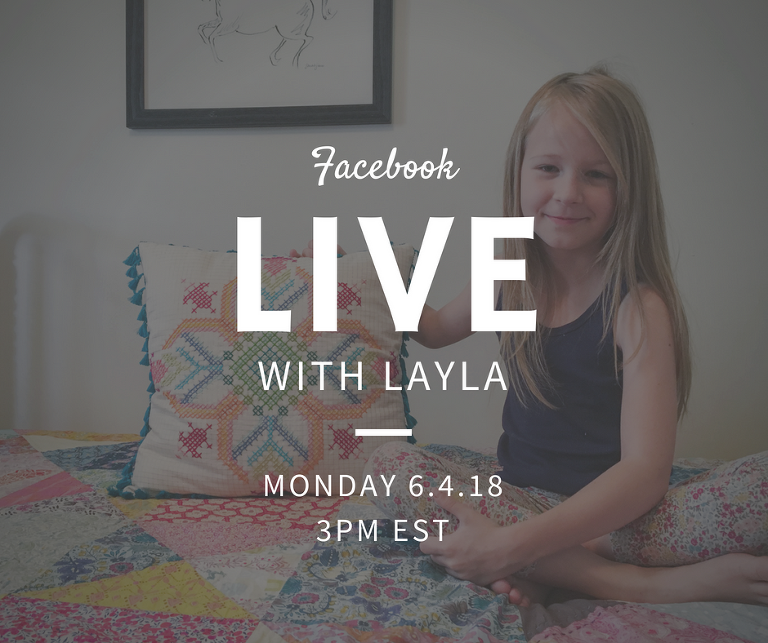 If you'd like to see Layla chatting more about her project, be sure to follow me on Facebook at Olivia Jane Handcrafted, where she will be going LIVE at 3pm EST. She'll also be popping onto Instagram LIVE tomorrow. You can find that @thefooshe.
-Meredith & Layla