I have been jumping up and down since Tuesday when I received my copy of QuiltEssential that I had preordered on Amazon. About a year ago, I was approached about using some of my quilt pictures for the book. I was pleasantly surprised ridiculously excited once I saw some of my quilts! Over the moon is more like it.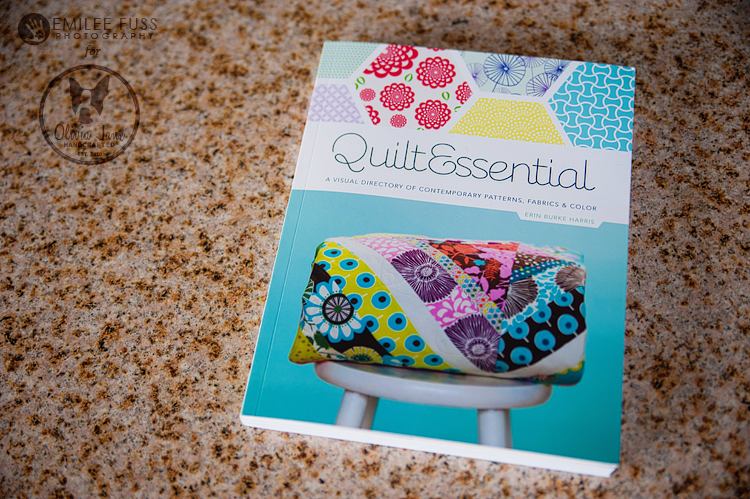 Okay, what is this book anyway? Well its a brand new book by Erin Harris of House on Hill Road, and it covers everything you need to know about making a quilt. Everything. There are even artist profiles from some very big names in the biz, like Anna Maria Horner and Carrie Strine. While I haven't gotten the chance to read the book through yet, I have read enough to know that its a wonderful resource for any quilter.
Erin covers methods for choosing colors, cutting, quilting, and more. With each topic, she has loads of pictures to go along. Its a very thorough book!
Sometimes when I'm super new to something, I don't even know what questions to ask simply because I don't have enough of a handle on it to think of anything. Well Erin's book can help with that. Its laid out in a step-by-step manner that won't leave you wondering in which order you should be doing what.
I think the artist profiles are wonderful because each person that has been featured is so different in terms of their personal style. It shows how much diversity there can be within this one area of sewing. Even if you are a seasoned quilter, its unlikely you will be able to read through QuiltEssential without atleast gaining a little inspiration. There are so many gorgeous quilts in this one book, I could spend all day thumbing through it. And that's pretty much what I've been doing every day since Tuesday.
At the very least, be sure to check out QuiltEssential: A Visual Directory of Contemporary Patterns, Fabric, and Color by Erin Harris. She's done a wonderful job, and I feel so blessed to have even been a teensy part of it. Thank you so much, Erin!
-Meredith