This week has been wonderful. It started out a whirlwind, much like the past two months for me. Then I had this realization that I can be content. I should be content. God has given me the blessing of being able to sew, and rather than rushing through everything as though I'm racing myself, I need to cherish it and be sure that what I'm doing has purpose and meaning. I've always thought that quality is far more important than either quantity or speed, but since I lost so much time in February, I compromised by trying to making up that whole month during March.
That is insane, right? It totally is.
So I've spent this rainy week tackling those things I need to do and then enjoying my sewing time at a realistic pace. This past week I've worked on a few things including an Oliver + S Music Class Blouse for Layla. I thought she needed a basic shirt in her wardrobe, and I might as well make it myself. I chose a favorite Denyse Schmidt print and set out to work.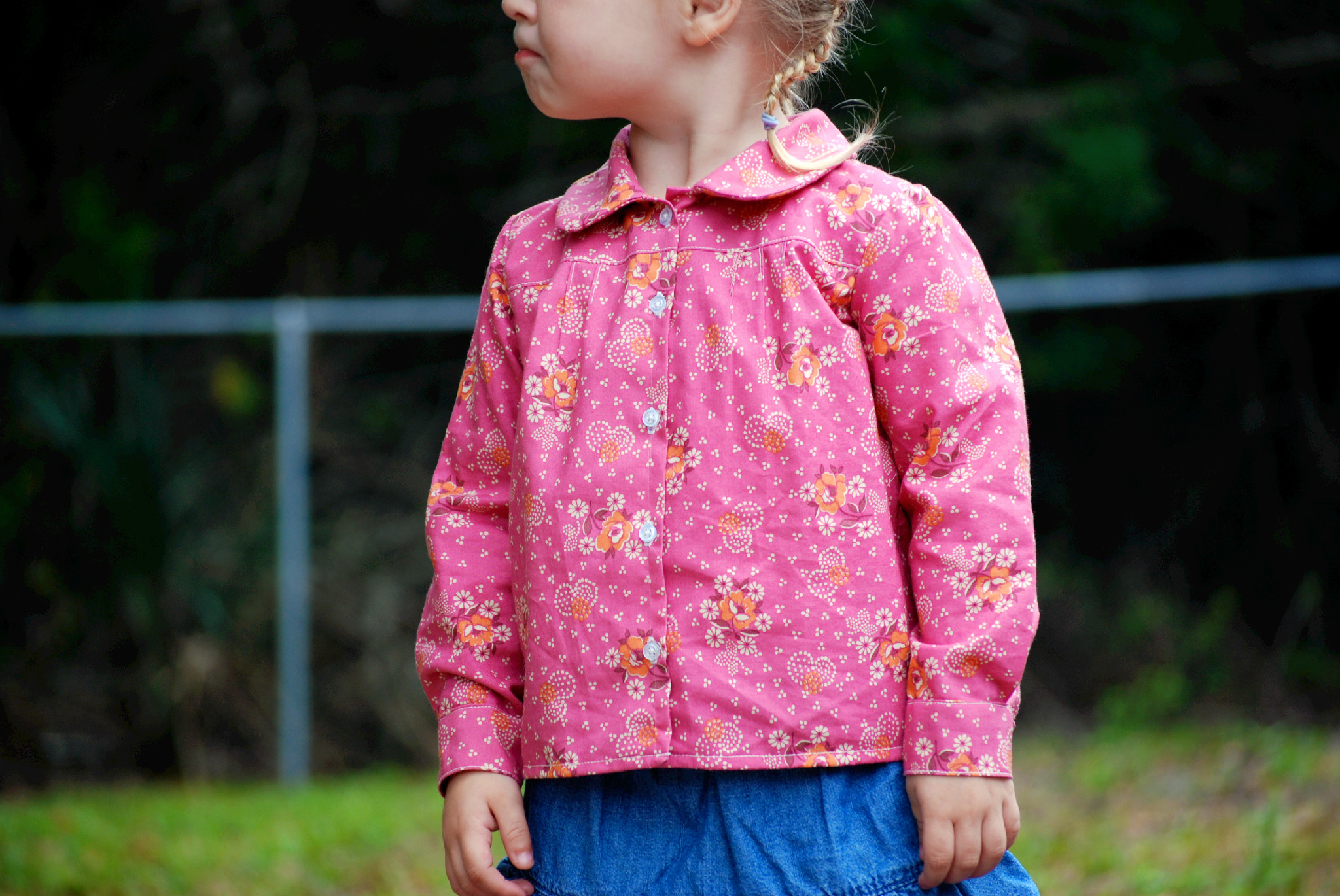 I made the long sleeved version with the collar from the short sleeve version. This is the most time consuming Oliver + S project I've done, as it took a whole eight hours! Needless to say, she won't have a ton of these in her wardrobe.
Of course the pattern is written well. Even with all the time it took, it is perfectly written. I do with there was a better way to do the placket on the sleeve, however, because by the time the shirt was completed, the placket had actually ripped a tiny bit because of the way it has to be clipped up to the point. And I thought I was especially careful.
Don't read into that that there's anything off about the pattern. As with most things, I'm sure I just need additional practice to perfect that little placket!
I do love the finished shirt. I used a zig zag stitch to repair the small tear that was largely unnoticeable to begin with. Layla looks like a little country girl here. Its far from the look I normally go for in an outfit, but I think its adorable all the same.
She is incapable, I believe, of sitting still for even a moment, so these are her "sit there and  just make a pretty face for Mommy, please" pictures.
That's all I've got for today. Its my birthday, and I've spent this gorgeous day enjoying my sewing time since my house is the cleanest its been in a while (the laundry is even done, so BAM!). I've got the lining cut out for a Roller Skate dress and a new My Belle. I hope to finish two or three Roller Skate dresses/tunics tomorrow since I didn't get my Sew, Mama, Sew package today. Perhaps I'll make that My Belle today and wear it to dinner tonight. That may be reverting back to that rushing that I'm trying to avoid. Whatever I do make, I'll be sure to be back here with plenty of pictures in the next few days!
Have a great day!
-Meredith