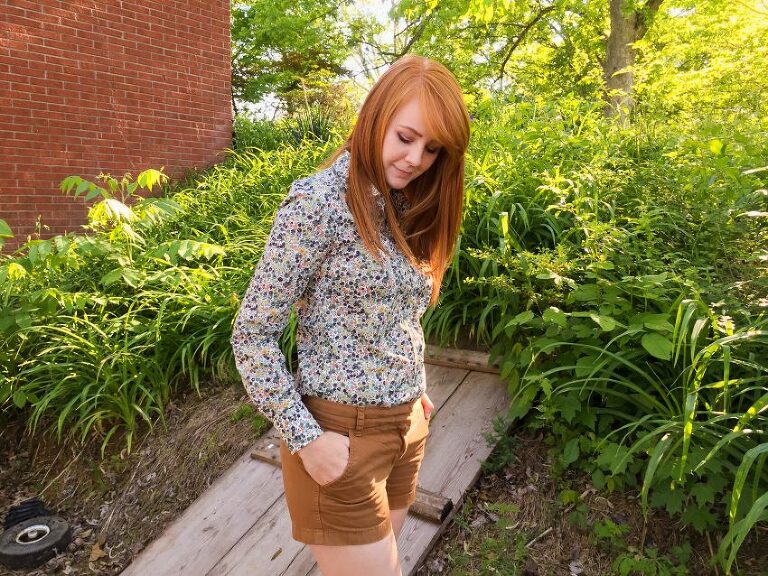 Have you ever had something you wanted to do so badly that once the chance came around, your expectations were so high, you were nearly frozen with fear of failing or second guessing everything? That's me. You see, my favorite wardrobe item is J.Crew's Perfect Shirt, the most well made, perfectly fitting, brilliantly constructed shirt I've ever worn. It is practically perfect in every way, and so aptly named. I would come across Liberty prints and see nothing but this shirt in those fabrics, so I guesstimated my needs and purchased cuts when I saw fabric I loved. The problem was, I didn't have a pattern for recreating my favorite shirt. 
I attempted making pattern pieces with an intact shirt (unwilling to sacrifice any of my own). I wasn't pleased enough with the results to actually test on fabric.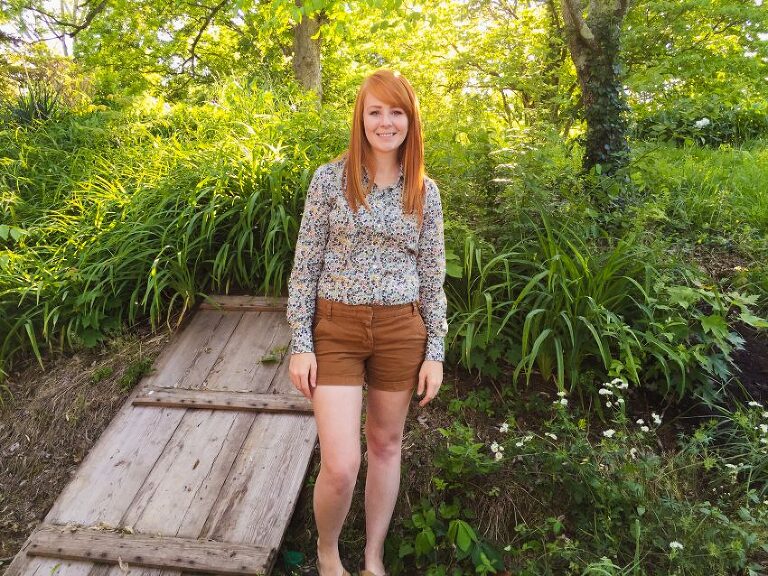 Then I bought the Granville Shirt from Sewholic. The PDF was the worst nightmare to put together, and that's coming from someone who uses PDF patterns all the time. I wasn't terribly excited by the pattern once I had pieces cut because I was looking at the silhouette, which has a very curved side seam at the bodice, and knew that was not how the perfect fit was achieved on my ready-to-wear version. I also compared all the pattern pieces to the Perfect Shirt and there were so many differences I threw my hands in the air and had to walk away.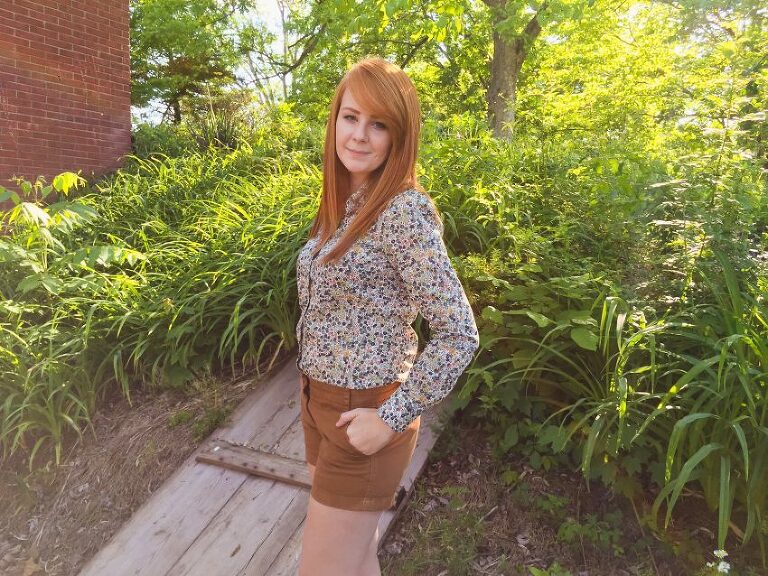 At this point I reached out to Instagram to ask for any ideas, and was thrilled when someone recommended I hop onto Ebay and order a Perfect Shirt secondhand that I would be willing to deconstruct. I don't know why this idea never occurred to me, but I'm so happy I was able to find one for only $9!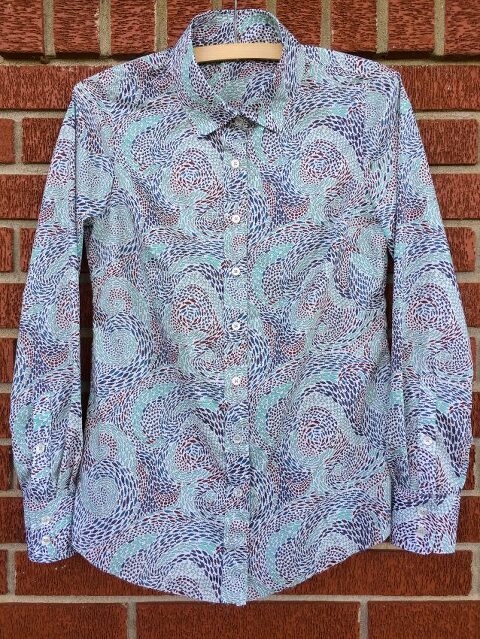 It took forever to take apart this shirt, which I suppose is a good thing. I spent a solid 24 hours just marveling at the construction and utterly brilliant details. I would like to hug the person who designed this shirt. I took photos and took careful notes of every single detail and step, so I could rebuild the Perfect Shirt.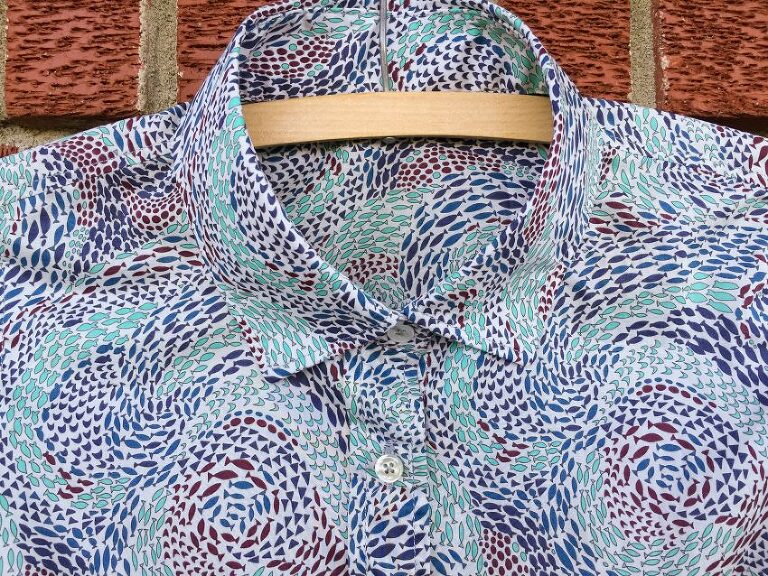 After making the pattern pieces and cutting my fabric, the shirt came together pretty quickly. It uses French seams pretty much everywhere which is my preferred method when I make garments. The true brilliance of this shirt is absolutely in the darting. I mean, I know I probably sound like a super nerd, but I can't even talk about the darts without my voice going a little higher and gushing like a total fan girl. The darts make the silhouette. They are what make this pattern perfect for a person with or without curves. GAH. The front darts are your standard side bust darts. But the back darts. There are two vertical darts on the back, which are actually doubled, so there are four in there, but you can only see two without deconstructing the shirt. Can I say it again? This is why this shirt rocks my world.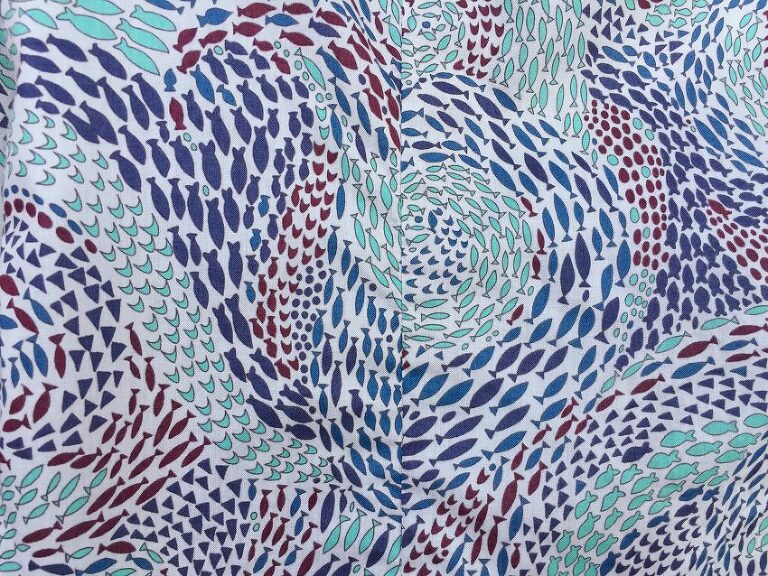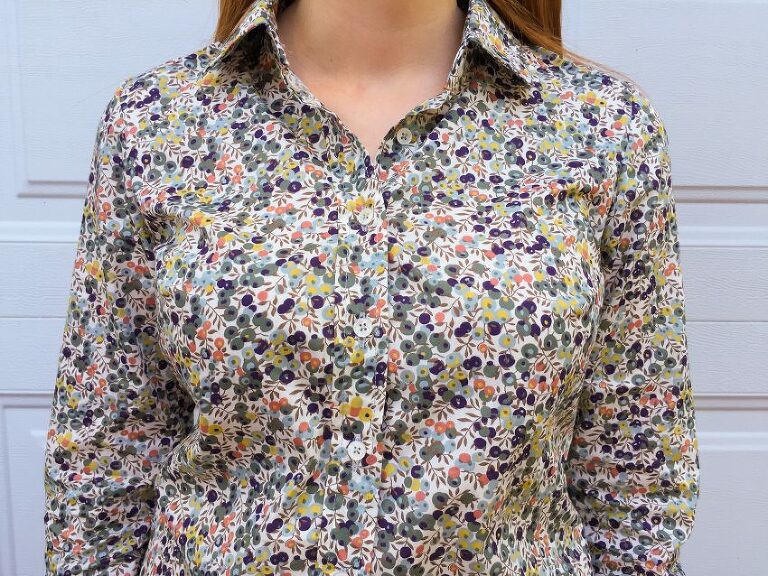 Moving on. The collar has a stand, as all good shirts ought. In fact, I will be altering my favorite kid's pattern, the Sketchbook Shirt by Oliver + S to have a separate stand the next time I make them for the boys. It makes for a perfect collar that sits just right.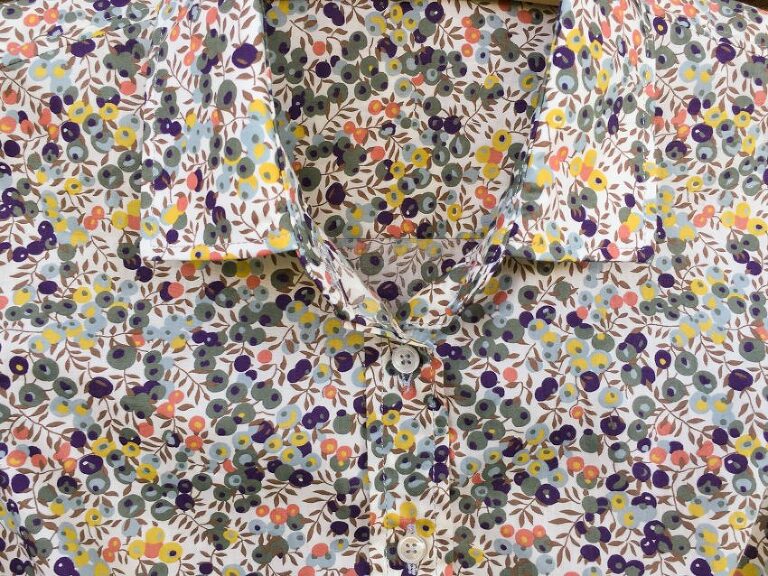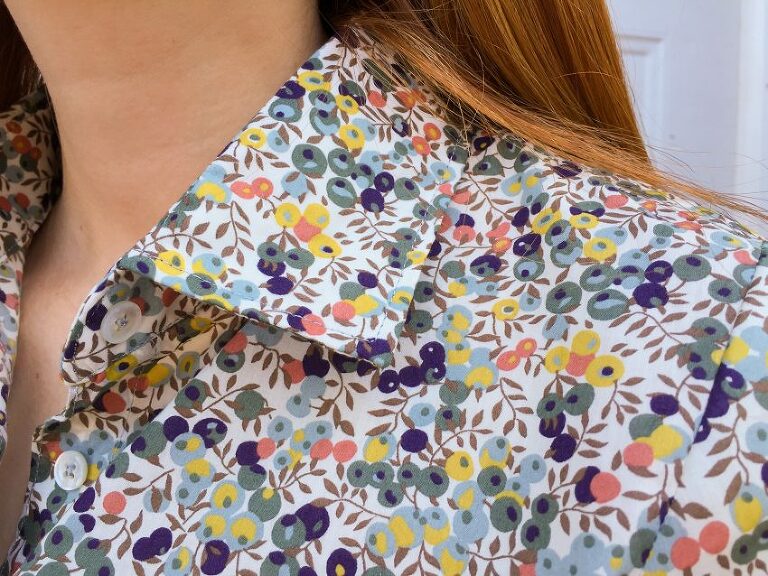 The buttons are placed in such a way that there is no bust gaping, which I appreciate.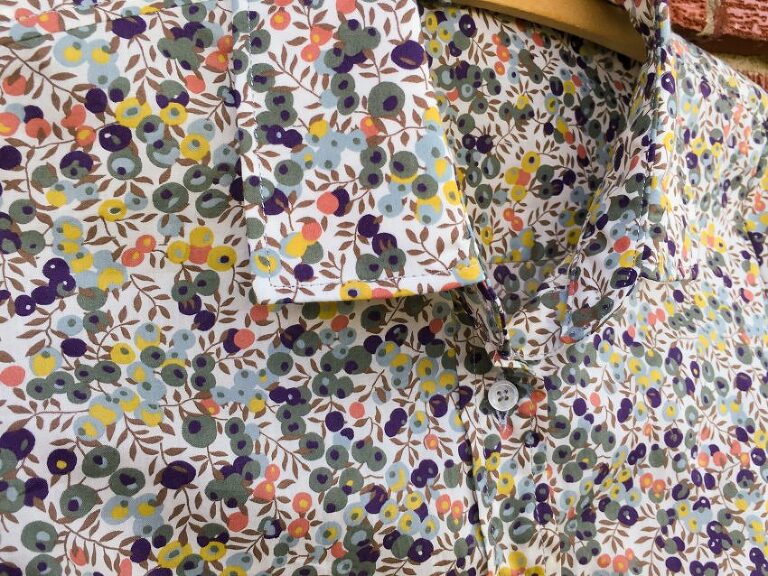 The sleeves fit so nicely too. Not too wide, not too narrow. The difference in the sleeves between my Perfect Shirt and the Granville was so huge, I had no clue how I would alter the Granville to make it work. If the arms don't fit properly, it causes all sort of issues in the overall look, the shoulders, the bust…. It's just no good. And by the way, I'm not knocking the Granville. I'm sure plenty of people love their's and the fit, it just didn't meet the needs I had or the look I was going for.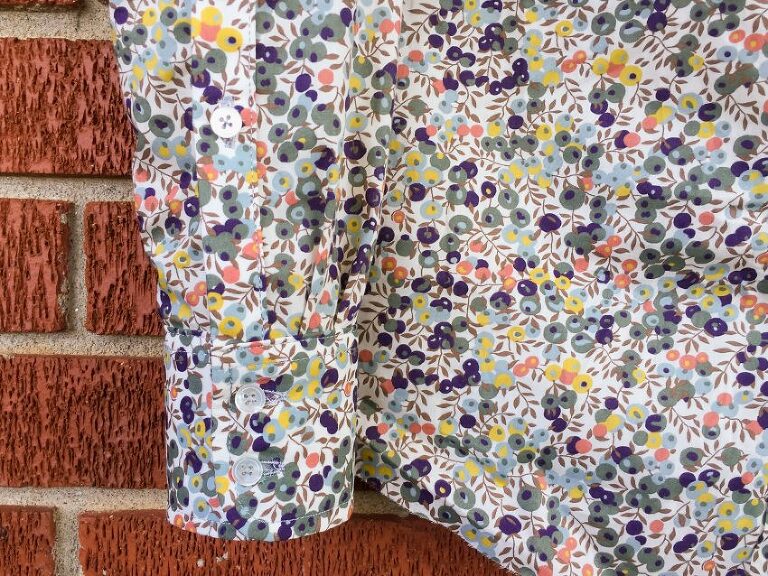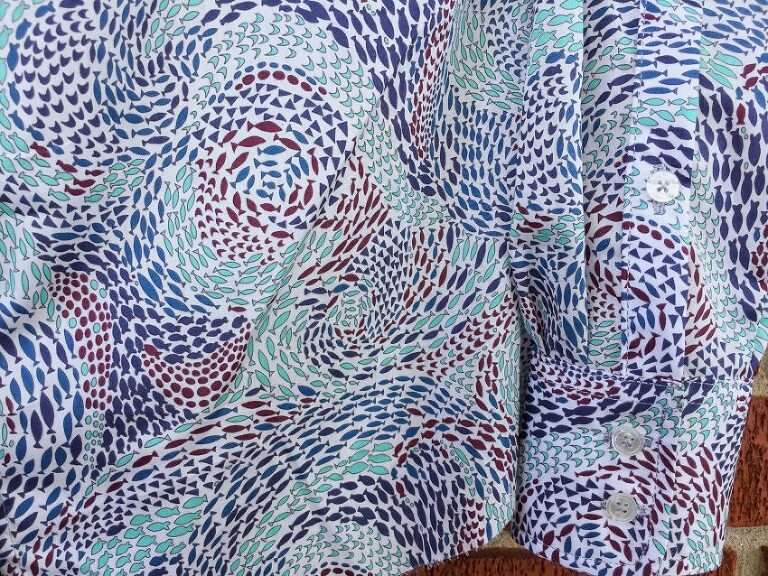 The first version I made was with a brand new fabric from Alison Glass for her new lookbook. I can't show that yet, or even say much about it, but I was so excited with the result, I immediately cut my next two versions from two of my favorite Liberty prints. That green Wiltshire (sage), which just melts me, is from Jones & Vandermeer. And the fish print is called Shoals. Its from the Spring collection, Castaway, and I purchased it from DuckaDilly. Both stores have endless amounts of Liberty, which means endless Perfect Shirts. :)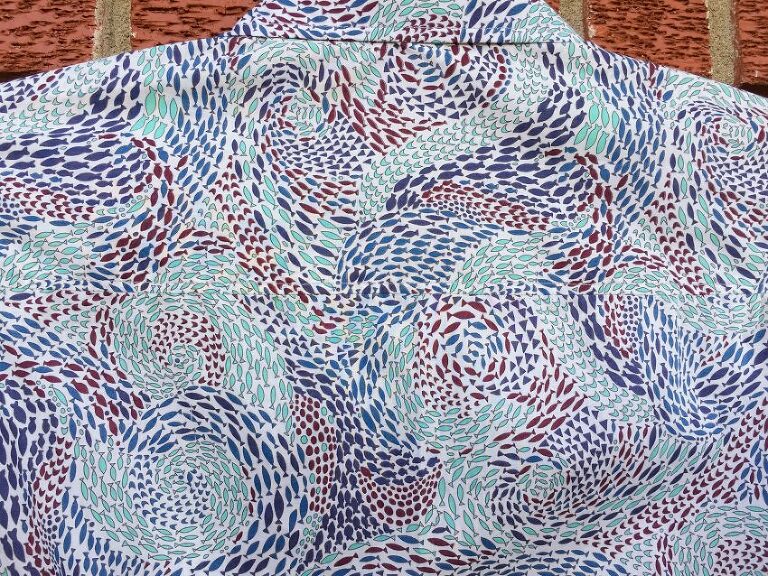 I'm definitely claiming this as my biggest, baddest garment sewing accomplishment. Its so fulfilling to be able to put a check mark by this long time dream. However, I can take zero credit for any of it, as this is the expert design of another genius maker whose hand I would love to shake. I'm excited to make many more of my own Perfect Shirts, and I already have a stack set aside for this very purpose.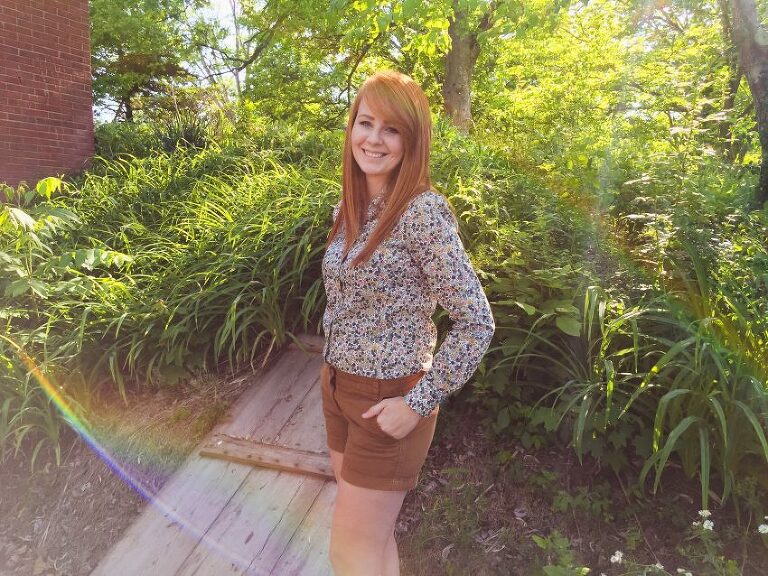 I've been knee deep in custom orders, but having finished them today, I will be moving on to some other projects. Watch this space for more sewing goodies!
-Meredith