Yep. I'm making it a thing. This week is dress week on the ole blog. I have a full cubby in my Expedit with fabrics laid aside for specific garments. I decided to take on the Layla dresses to start with, and my, has it given me the greatest fulfillment. It has made me realize once again how passionate I am about the garment side of sewing. I feel so in my element here.
But let's rewind. Last week I was trying to find what I ought to tackle next. I was quickly drawn to the section of garment fabrics I just mentioned. I pulled what I wanted to use, as well as my trusty Building Block Dress book, and traced out the sizes and pieces I needed. Of course, I also traced the littlest baby size, 6-12 months, because I am an aunt for the first time and will get to meet the little Miss in May. So I might as well make fun size dresses and big girl dresses.
I really, really love Oliver + S. I've said many times over the years that anything Liesl Gibson touches is pure gold and always worth the investment. This book is a treasure for anyone who loves to see garments because it teaches you how to transform a basic into a plethora of styles. So I chose a few variations, made the necessary adjustments, and got started.
The dress I'm showing you today isn't the first I made, but it's darn cute and I didn't see any reason why it needed to wait to be talked about. I think it's perfect for Layla. She's my horse loving girl. Just a few weeks ago she declared to me, "you don't have to get me any presents for my birthday, mom. A horse will be fine."
That's it.
Just a horse to suck away money forever and always.
Snort.
But I do try to oblige her in more practical ways. In this case, I chose this beautiful horse print from Rifle Paper Co as the focal fabric on the bodice. It's a nod to the animal she dearly loves, and it's so sweet and soft and feminine without being overly girly. Layla isn't much of a girly girl.
I also tried to pay tribute to her love of blue, which has always been her favorite color. The bodice is fully lined with this same blue print. I always line as opposed to facing. I detest facing more than I can properly express with words.
She immediately loved the dress, but honestly the best part was when she tried it on and ran her hands down the side and found the pockets she was looking for. "Yes!! It has pockets! Thanks, Mom." I don't know any woman that doesn't think the same thing. That's my girl.
Perhaps you'd like to know what I did with the original pattern to get this dress. The pattern I traced up is size 6 with size 7 length. Layla is kind of a shrimp, so even that is pretty large on her. For this version, I shortened the bodice by a couple of inches. I would have made the skirt longer if I would have had enough fabric, but I didn't so the skirt pieces were only 18″ prior to hemming. To account for the shorter skirt, I just did narrower hem- 1/4″ folded up twice. Oh, and I didn't make the A line skirt. I just made a simple gathered skirt (2x the width of the front and each back piece). This silhouette is much more flattering on Layla than an A Line. I used the rounded collar included in the pattern with no adjustment. I lined the bodice with the same fabric as the skirt and collar and brought the center line in by 1″ for the lining (so the main fabric actually goes inside just enough for the button placket).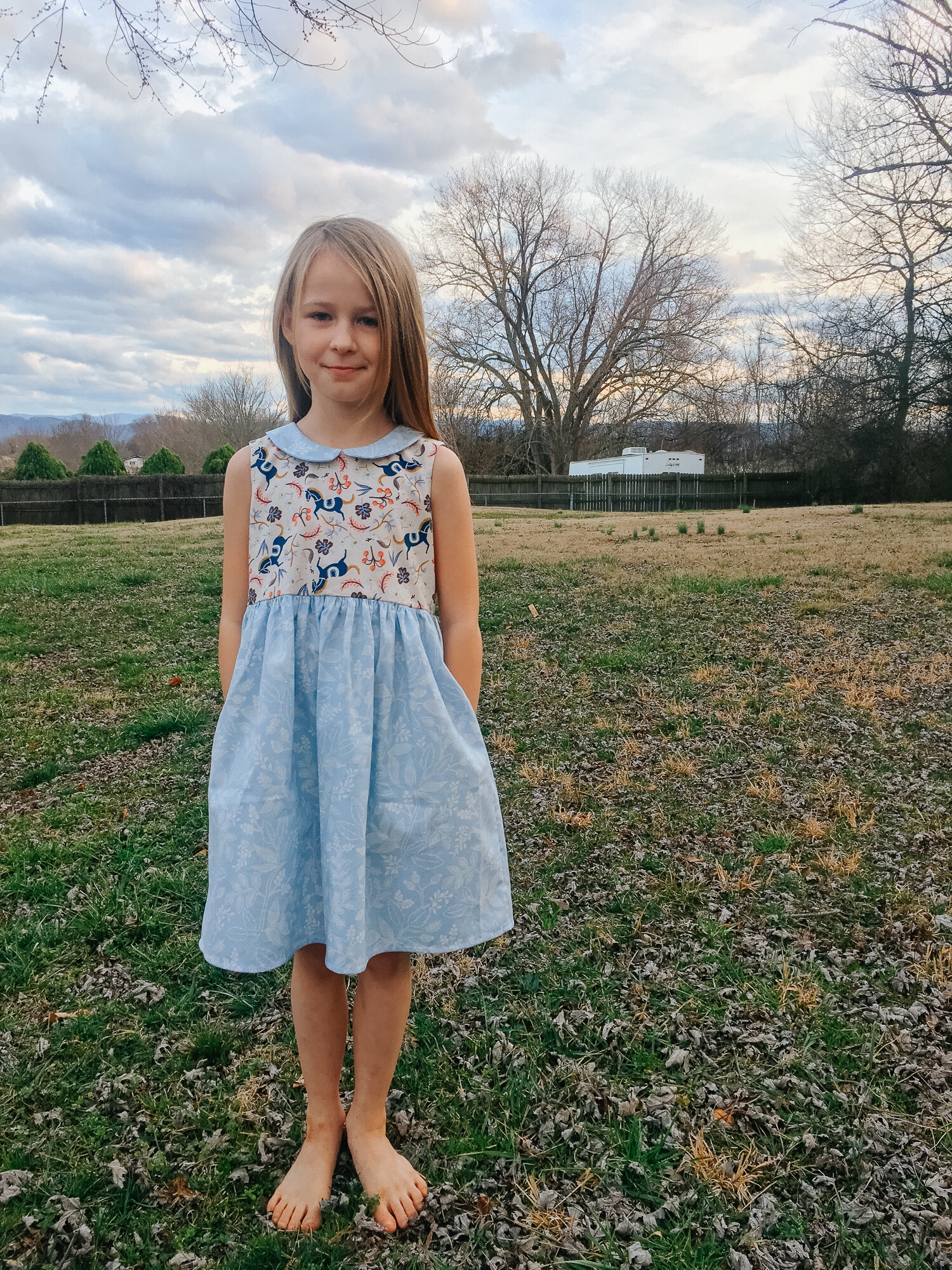 Tomorrow I'm excited to show you a Liberty dress I made for her. It's perfectly simple and sweet and feminine and I can't get enough of it.
Meet you back here then!
-Meredith