Remember when I told you about my garment sewing binge last week? Well it all started with a pair of shorts, and the realization that months of faithfully eating my anti-inflammatory diet had paid off. It only took a couple weeks for me to start feeling like a new person, but it wasn't until a week or so ago that I realized I'd actually been losing inches, and back to feeling like my normal self which greatly encouraged this garment sewing explosion. Nothing better than sewing for a body I feel good to be in!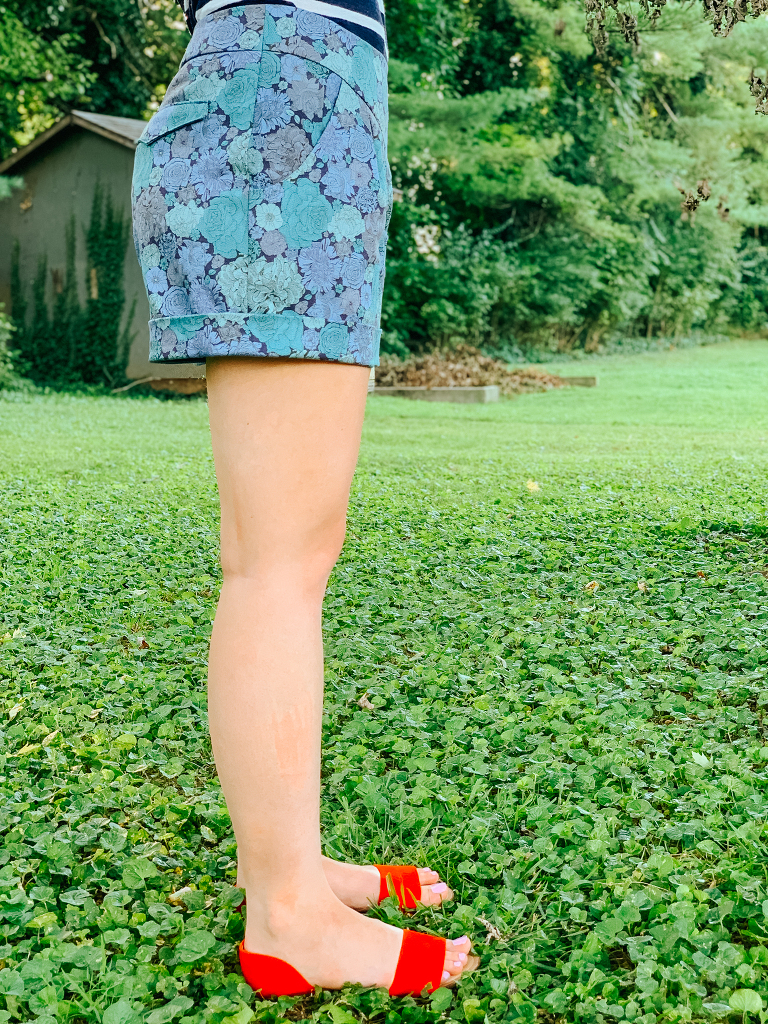 Anyway- since I tend to gain weight in my bottom half, I tend to shy away from sewing fitted bottoms because its just not that easy to fit a round behind and hefty hips. But upon realizing that I had slimmed down a bit, I felt I should dive right in and make myself the Deer & Doe Chataigne shorts. This brand designs patterns around curvy figures that tend to have a smaller waist and larger bottoms, so it didn't feel like much of a gamble to skip any sort of muslin and go straight for my one and only cut of Liberty denim which I've been saving for like 5-6 years. Looking back, I'm just relieved it worked out because that wasn't the greatest decision making on my part.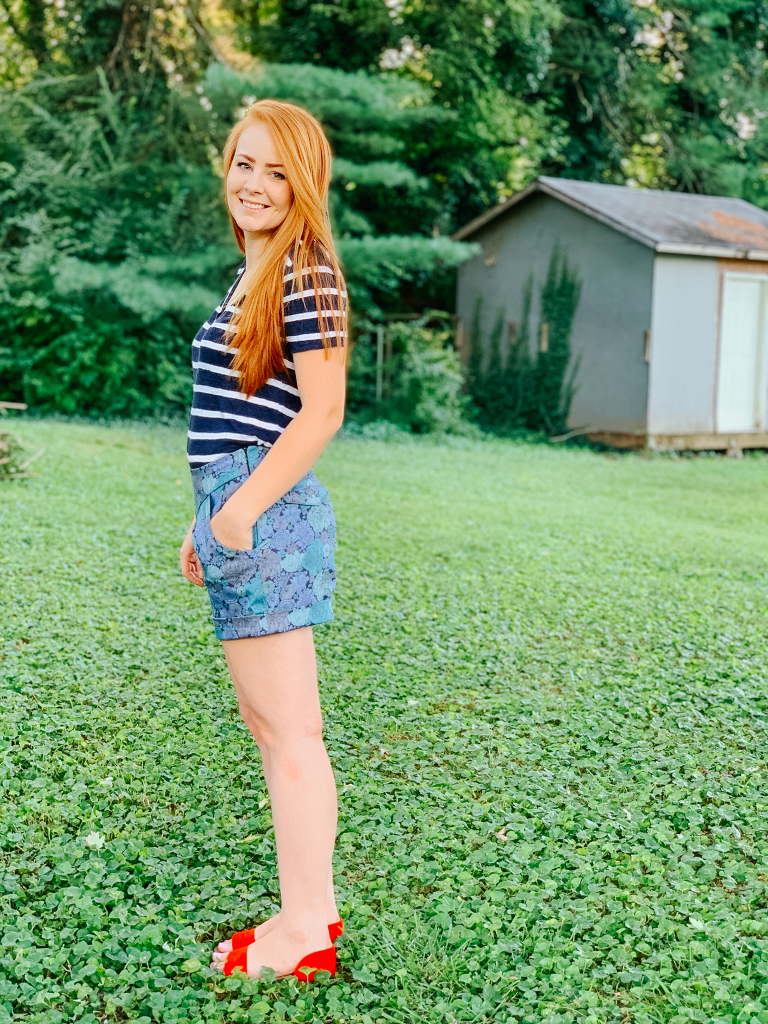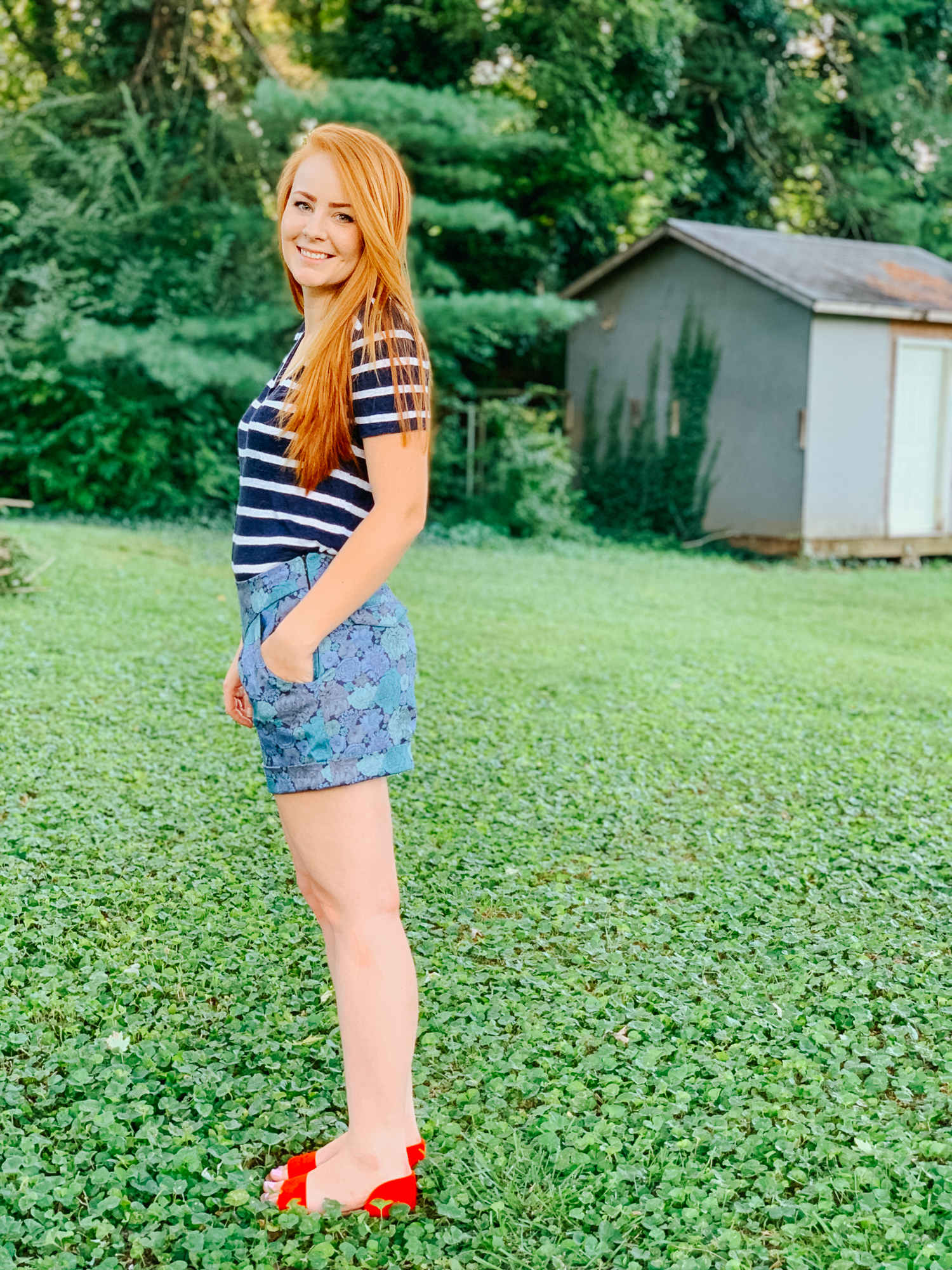 The shorts came together rather quickly- it took just a couple of hours from cutting to completion. Sewing bottoms does tend to go swiftly if you don't have to do much altering because by nature, they tend to not have many pieces. These have a hidden zipper closure on the side which makes the whole process so much faster than inserting a center fly in the front.
The lines on these shorts are so well thought out. The V shaped band in the front is unexpected and slimming. The pleats make the flare seem very purposeful and hides generous hips in a lovely way. Hidden is not the right word, it just flatters them in a very pretty way.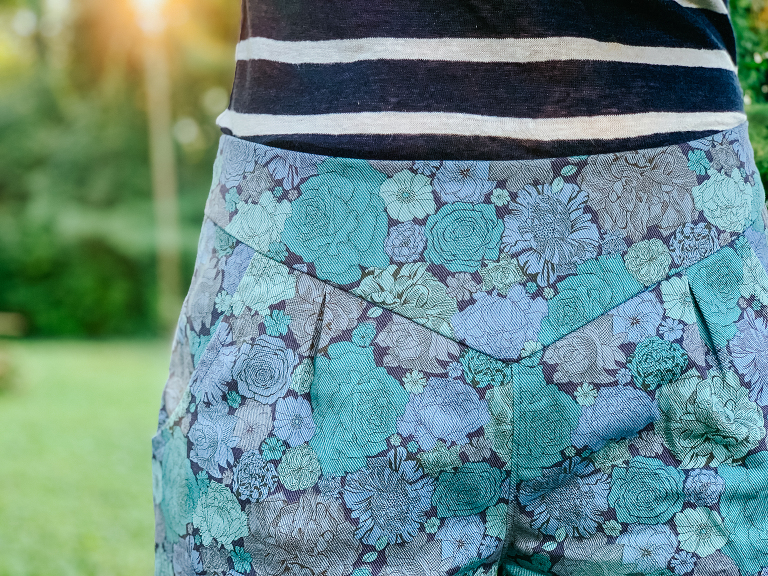 There aren't actually real pockets in the back, just a flap that is sewn on. Sure, I could have left them off, but I quite like them.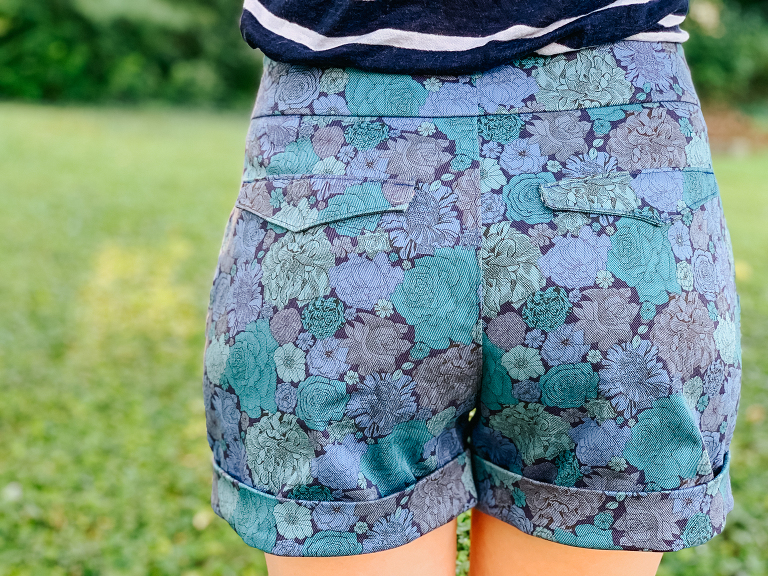 The bottom of the shorts have a band. In the other option for the shorts, there is a scalloped hem and a higher waistline. I don't love the higher waist, but I would love to try the scalloped hem next time. I need to get my hands on some more Liberty denim or chambray!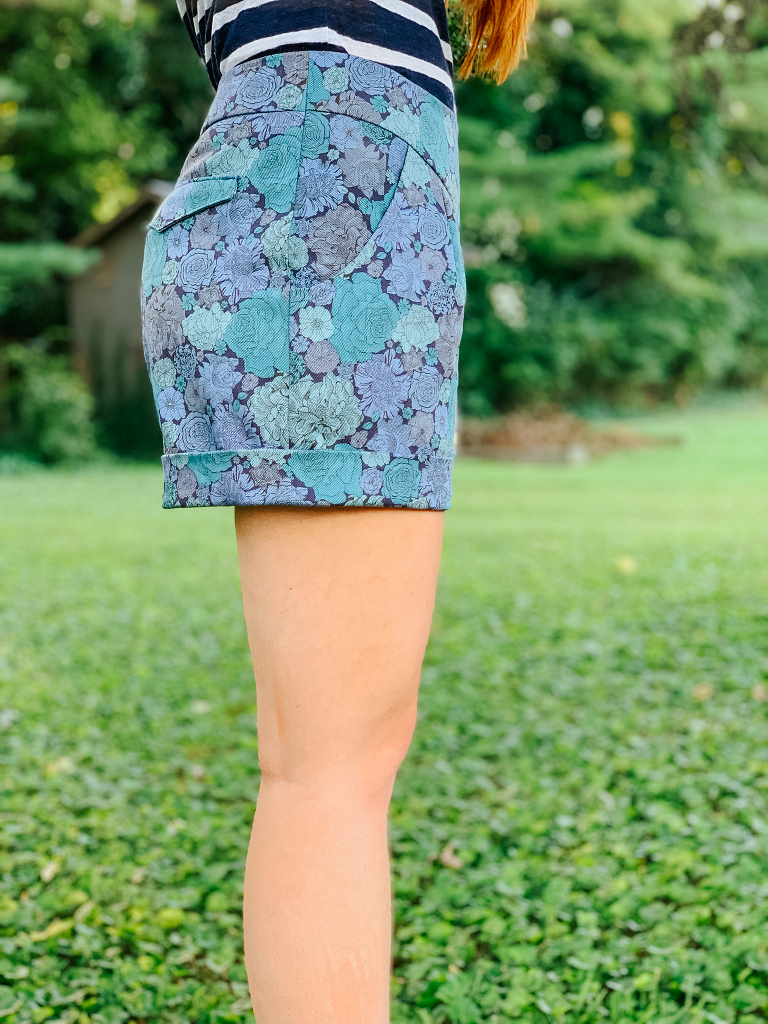 I just *had* to add a colorful fabric in the side pockets because floral denim simply isn't enough. I had some Tresco scraps that were perfect for my hidden pop of color!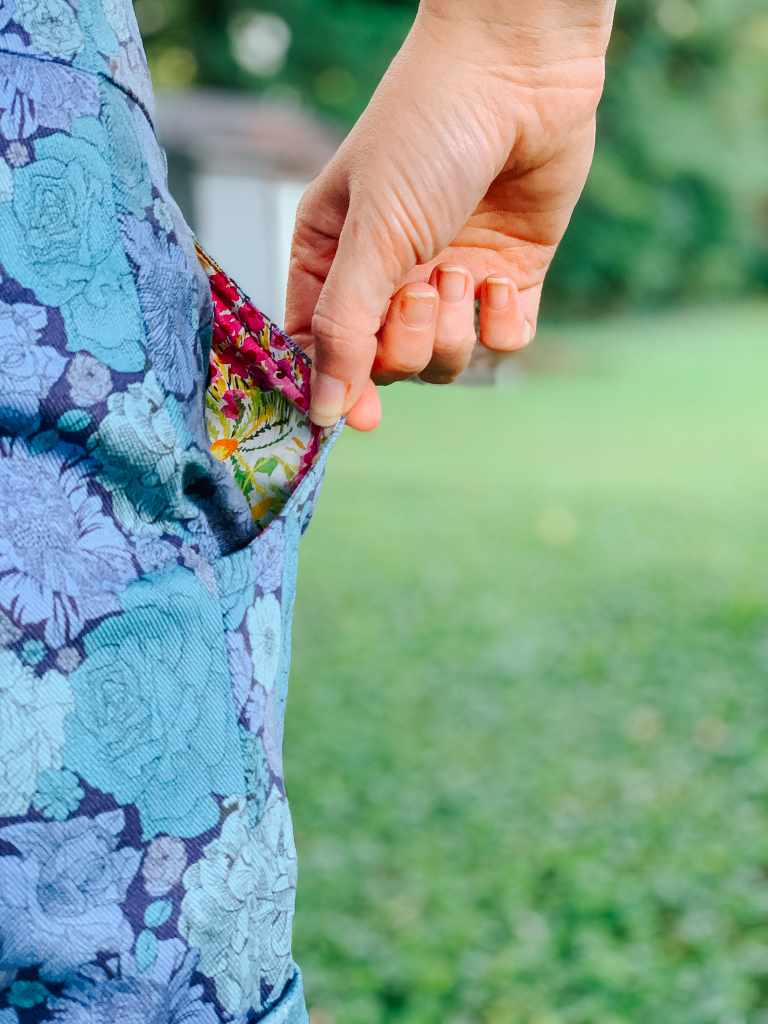 I made a size 36, and I'm really pleased with the fit! I wouldn't change or alter anything on my next pair.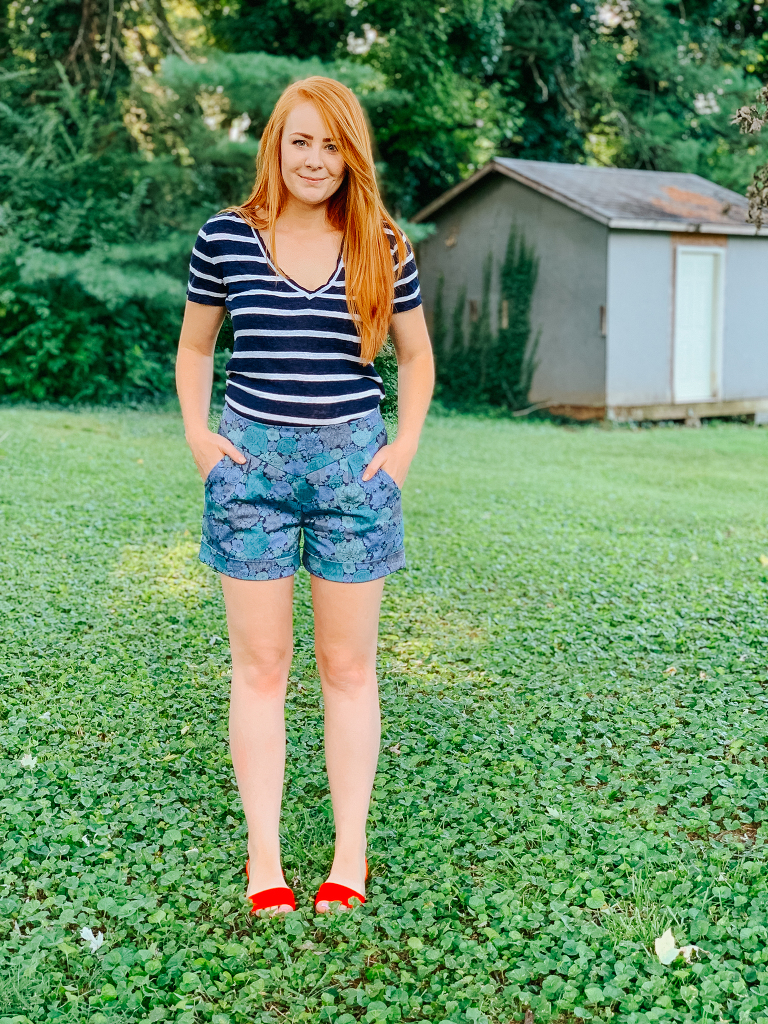 I hope you'll join me here on Monday! I have a brand new tutorial that's perfect for back to school!
-Meredith