I started drafting my pattern for my Perfect shirt the other day. It was a rather tedious process, not only because of what is required to actually draw out the pattern, but also because I have a now ten-week-old who was extremely insistent on being held and entertained that whole day. Nonetheless, I took advantage of those brief moments when I was able to put him down, and got a decent amount accomplished. I still have to draw out the pattern for the sleeve and sleeve cuff, but I expect that will be child's play after having done the front and back pieces which have darts. Hopefully it will be smoother sailing on a day that I'm not so flustered.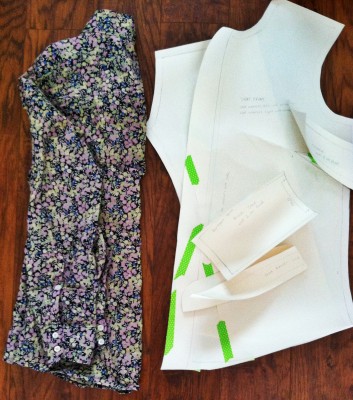 Every time I begin a new sort of project, I get so taken with the process. Beginning to end, quality work is a time consuming thing. Whether its a small project that takes an hour or a more involved one that takes days or even weeks, I really don't think people who don't sew have a clue what goes into making what they purchase ready-made. Ah! Its so important to support those people who make things themselves, and who pay their employees fair wages. Truly! I don't buy very many articles of clothing from stores since I've been able to make a variety of things myself. Sure there are things that I love, and that I want and will indulge, such as this Perfect shirt I'm attempting to remake. I don't have a clue what different corporations pay their various employees, so perhaps I'm fooling myself thinking that if I shop somewhere a little higher end, maybe the person who actually made the garment is able to feed their family. But those people who are here in the US are likely making far better wages, and what a treat to be able to hand the money right over to someone who used their hands and their time to produce a usable good! I do hope we see industry and manufacturing make a comeback here. What a revolution that would be!
Aaaand what a tangent that was…. Can you tell I get a little passionate about things? I guess I just so love the thrill of putting to use something that I've worked really hard on, that its hard to understand how we ever gave away these fulfilling jobs. I just think its amazing to make something for another person, and then have them say how much they love that thing. To know that I've made something that will possibly last a few generations.
Anyway, I have a few things on my handmade agenda. I'm using a Cotton + Steel lawn and sheeting to make a designed-by-me dress for my sister. Seeing that one come to life is going to be so exciting!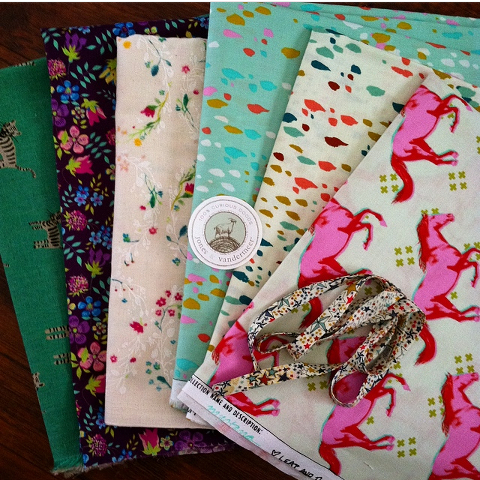 I picked up the horse print from Melody Miller to make a little something for Layla. Perhaps another one of these tops? The Nani Iro floral print will also become a top for Layla, but I'm thinking a really darling little buttondown. The Liberty is for my stash, and the tiger print canvas from Alexia Abegg will become a bag.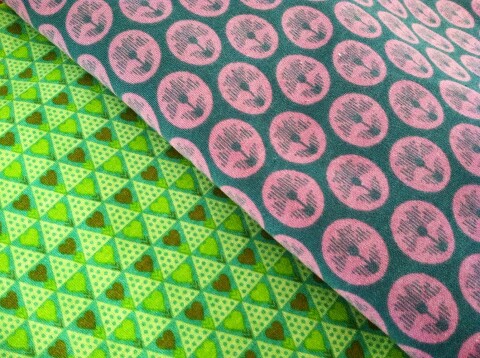 These Anna Maria Horner knits are also destined to become garments. I'm thinking the green will be a cute romper for Layla, and the purple will be a skirt for me.
Now hopefully I can focus on one thing at a time and get all the things accomplished! I think that will be the hardest part!
-Meredith