I'm working my way through my latest fabric purchase. Today's project uses that gorgeous Muddy Works Stars double gauze, and a little Liberty just because. The pattern is the Purl Baby Pants from the Purl Bee.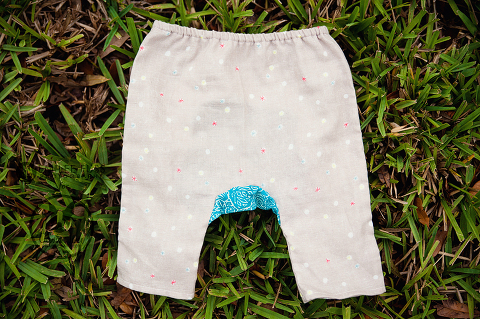 What a quick and satisfying project this is!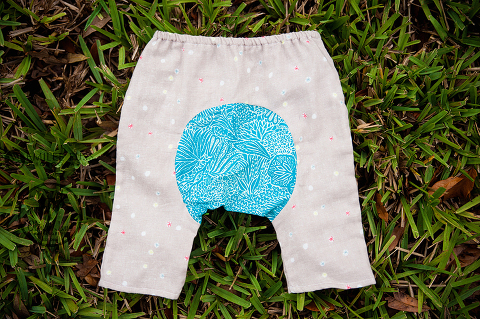 Its funny, because my first thought about these pants, besides them being cute was "Is that butt panel a little much?" And I probably only thought that knowing that I'm having a boy… and that may just show my limited knowledge of little boys, because he will be an infant and won't care a bit, I'm sure. My darling little family answered my thoughts. My husband's response was something like "What is that for? Sliding across the floor? Will he be crawling then?" [Yeah, hope not since they're size 0-3 months. lol] And Layla's reaction to them was, "Mom. I don't like those for Baby. They're ugly." Yes. Expect nothing but brutal honesty in this household.
I think they're precious, but before I go nuts I think I'll wait until he gets here and can model them. That way when he looks dashing in them, I can make as many pairs as I want and my family won't argue. Aside from the style itself, the fabrics are so nice!! He will be so comfortable wearing this lightweight, super breathable double gauze through the harsh Florida summer, and I can't imagine anyone complaining about Liberty. If you need a quick handmade shower gift, I highly recommend this free pattern. I had it cut and sewn in probably half an hour. You can't beat that!
Have a great weekend!
-Meredith