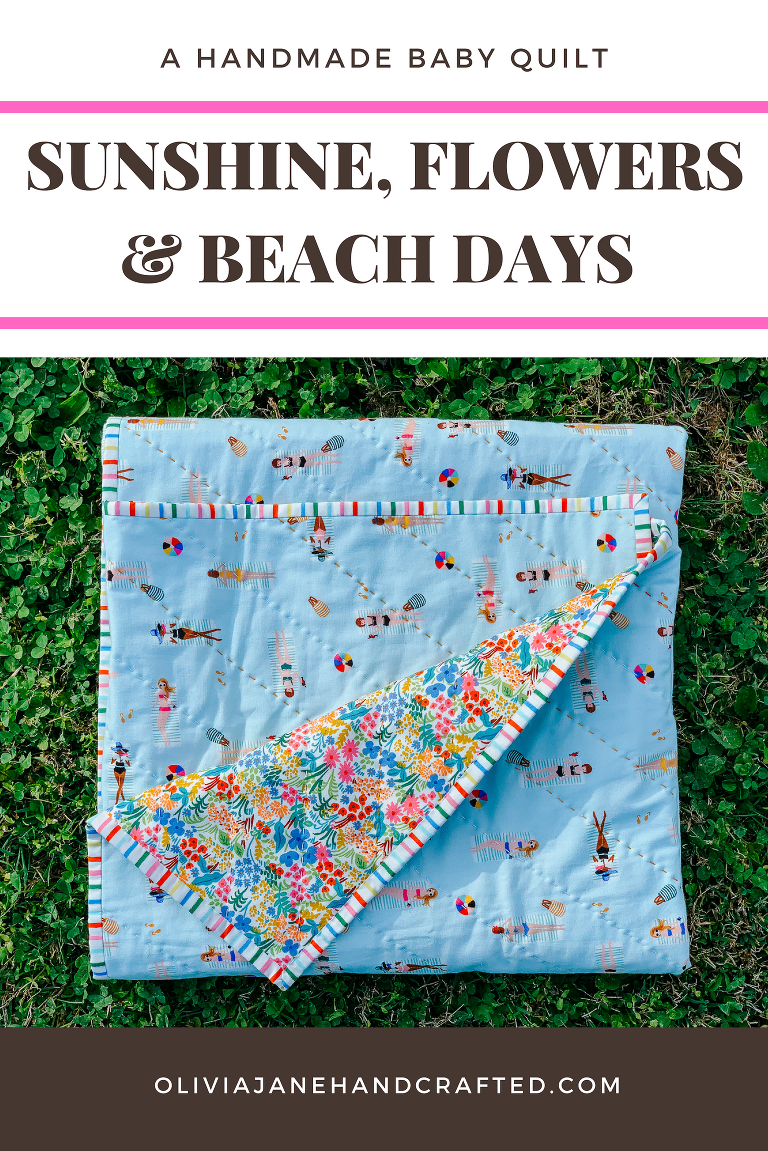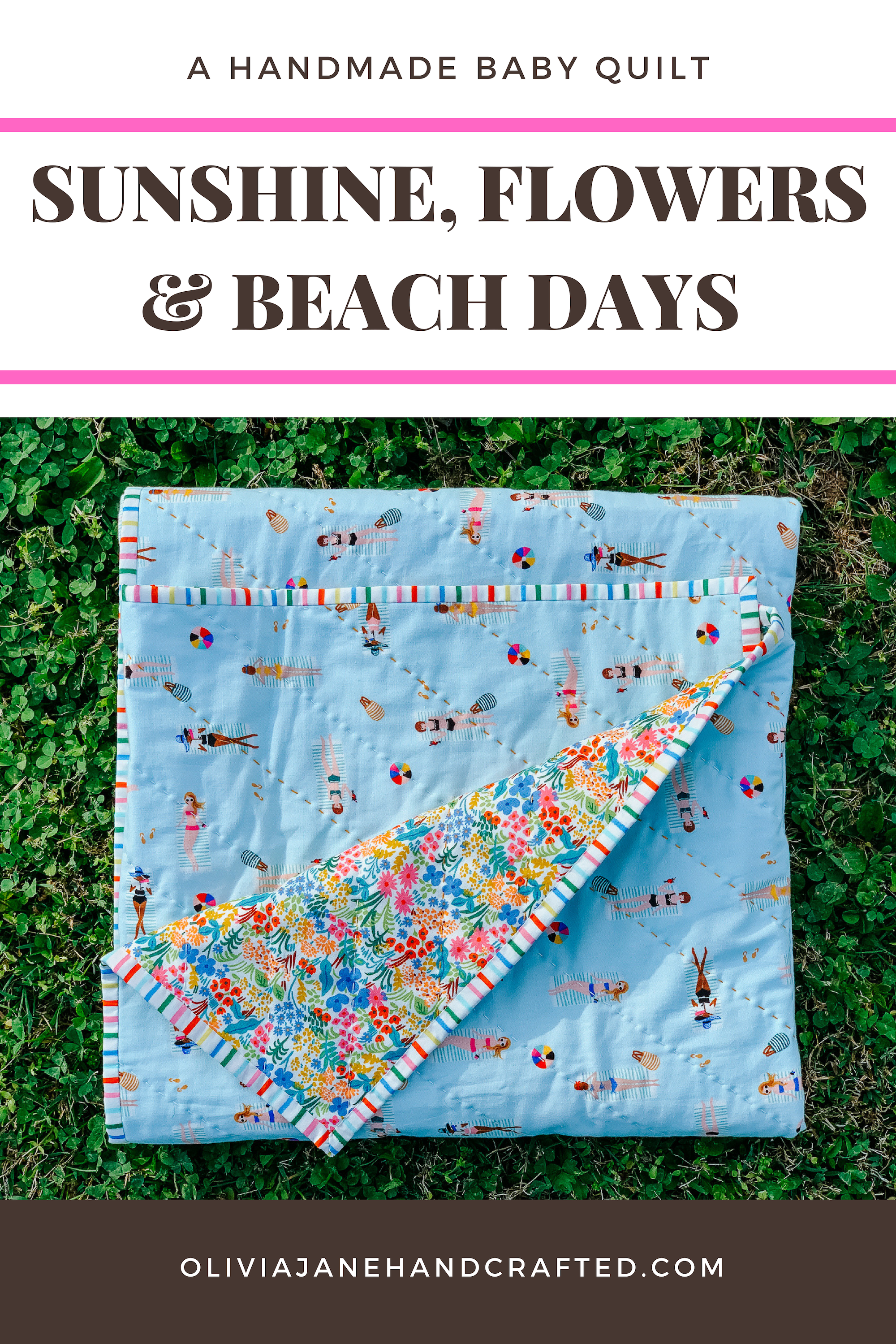 Its a stormy Monday in Tennessee, which has me feeling a bit down and sleepy. I don't know why these rainy days get me in such a funk, but I am so glad I have days like Saturday to look back on and appreciate, knowing the sun will come again and the earth will be lush with color.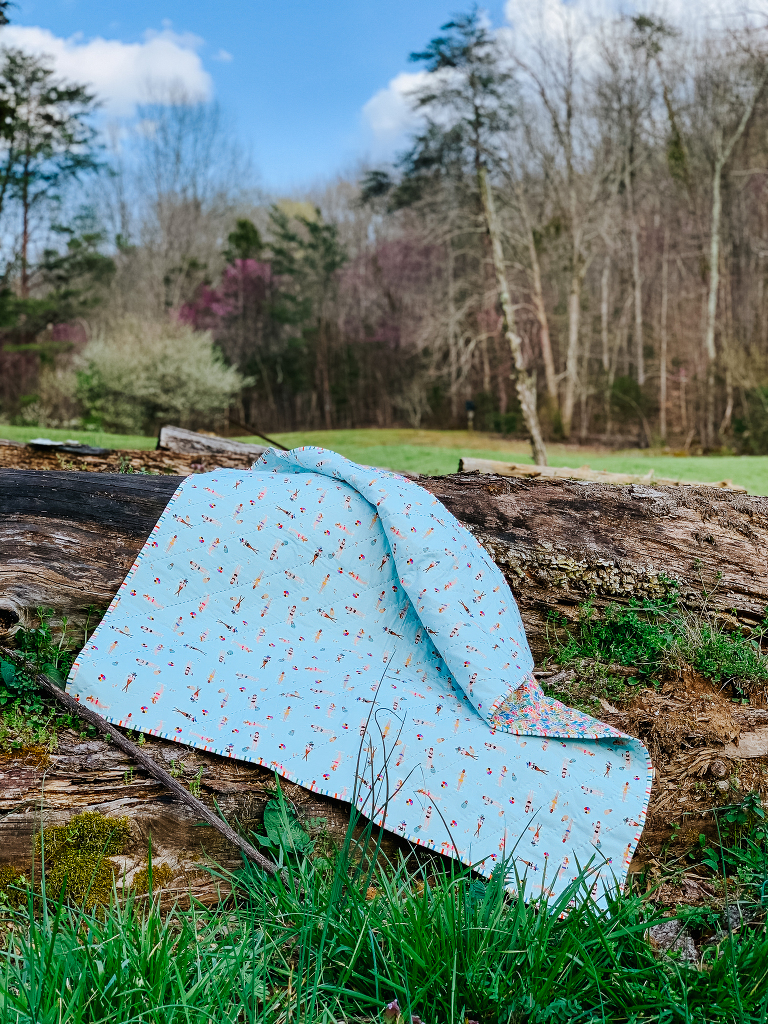 We took a trip out to see my uncle and aunt on Saturday, and they were gracious to allow me to photograph my latest make on their property. Its a quilt for my cousin's new baby who will be arriving any day now.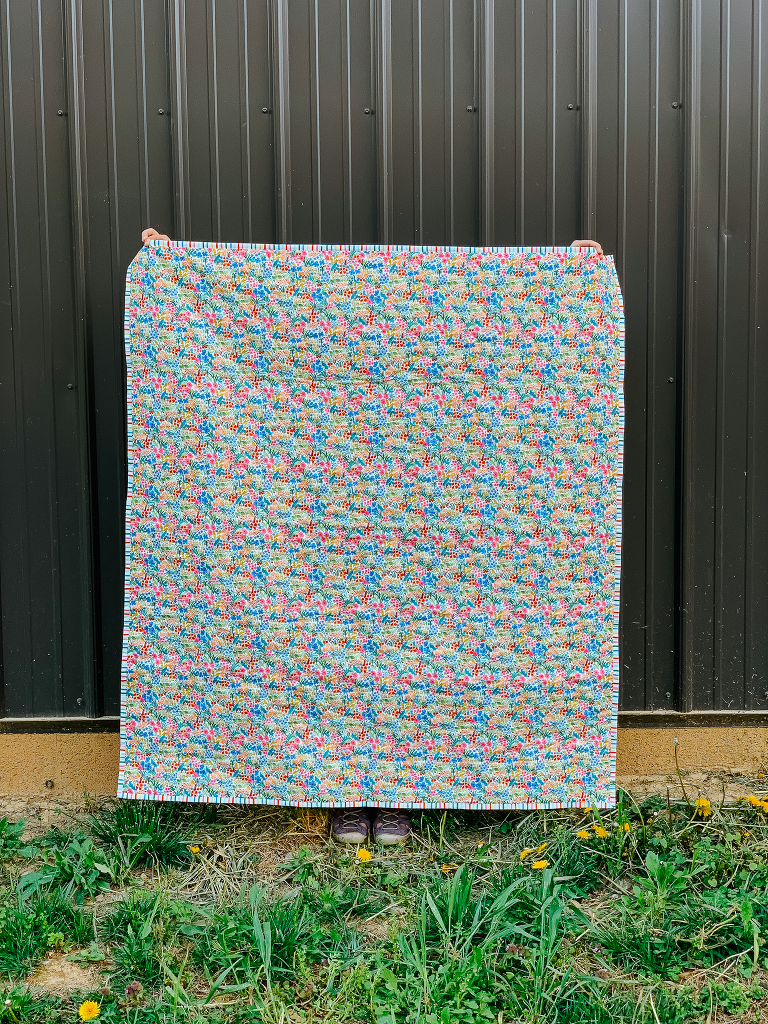 My cousin and his wife fell in love with Rifle Paper Co fabrics, and its no surprise because they are so bright and beautiful. They adored the sunning girls and the floral prints, so I suggested they have both! We tied them together with a fabulous colorful stripe fabric.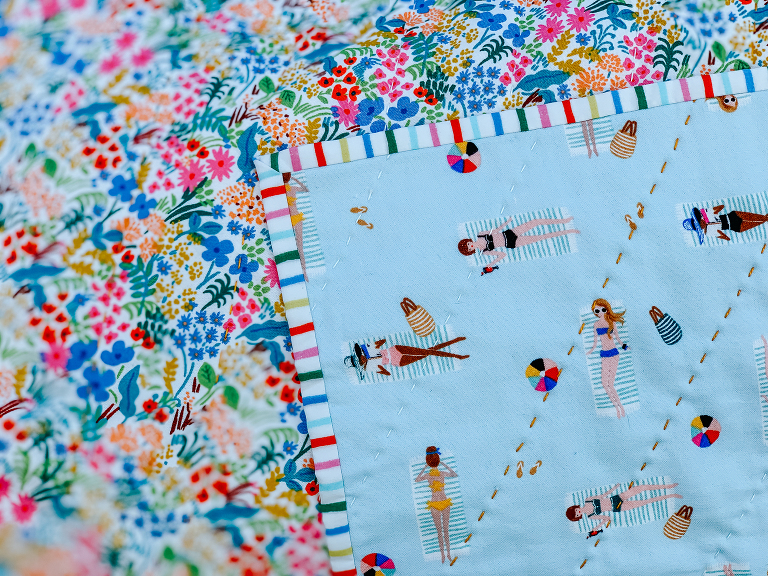 They wanted to keep the quilt simple, so we went with a whole cloth design and let the fabric do all the talking. I hand quilted it diagonally and somewhat densely. I had thought to cross the lines going in the other direction, but when I was finished with these, I just thought they were too perfect to interrupt with intersecting lines.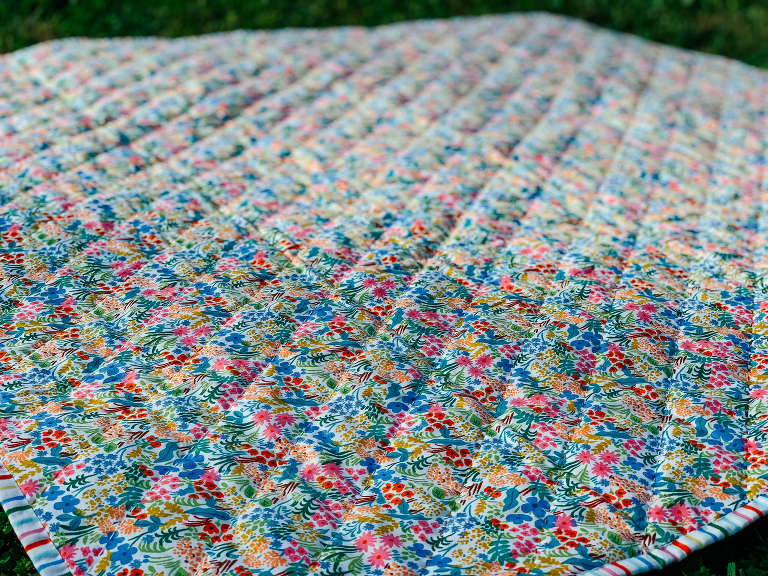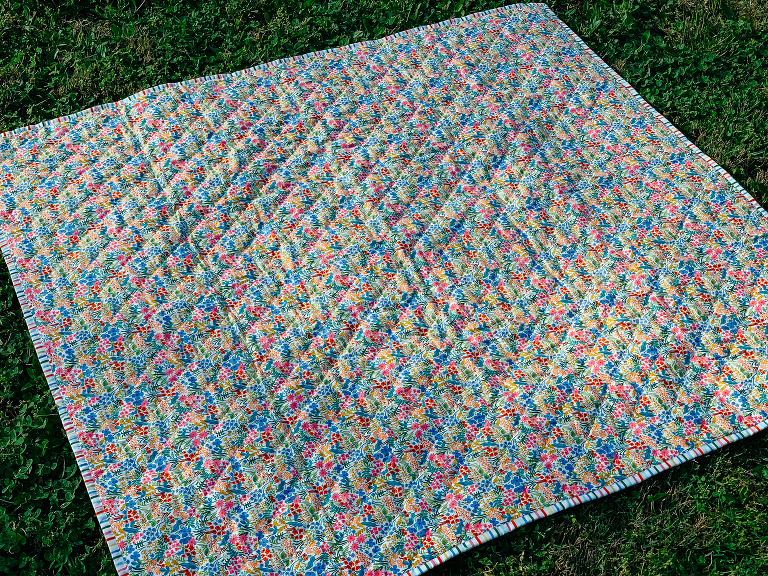 I love the texture of handquilting. I don't think I'll ever tire of those big stitches, and the glorious feel it gives to the quilt. I used a three different colors at random- mostly a mustard and white, but I threw in a few rows of an orange/red too. I love that unexpected pop! I'm going to get more into this soon with our Beginner Quilt Series, but I quilt by hand differently than most. I don't use a frame or hoop, and I do not do the rocking method. I really dislike the little bits it leaves in on the underside of the quilt- I prefer for both the front and the back sides to have even stitches so that either side of the quilt can be face up and look just right. As I always do, this is what I did here. Again, I'm going to do a full post on my method because I've had several people request it. The blue side here was the "underside" as I was quilting.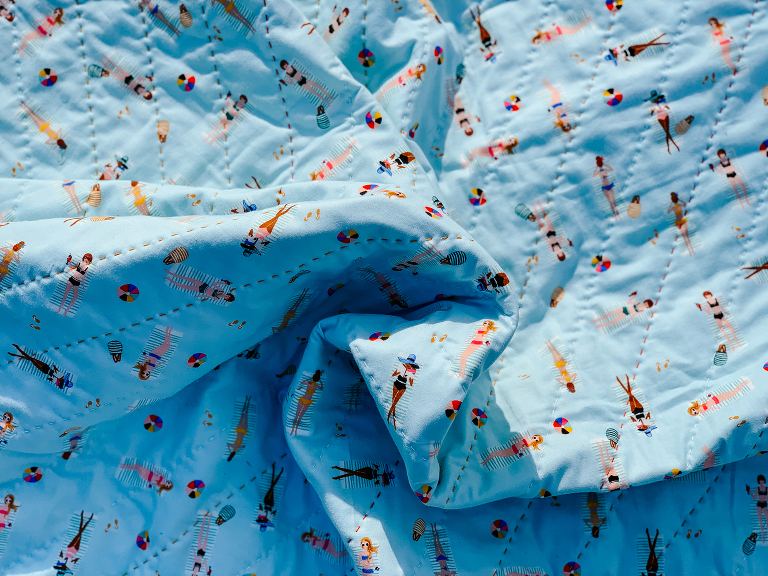 This quilt has a simple design and clean lines, but it certainly doesn't lack personality. I love that it is still bold and bright. If baby girl is anything like her daddy, she's going to have a big personality and will be endlessly interesting and so lovable. I can't wait to meet her.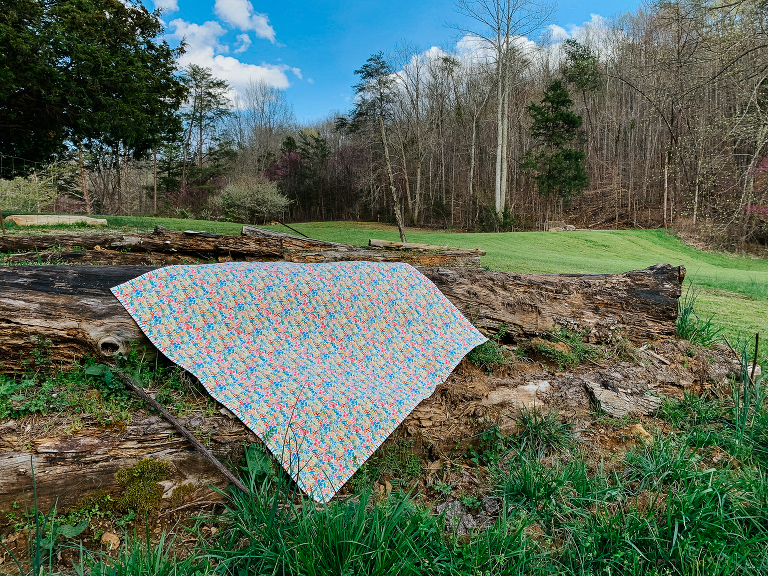 I love making quilts for babies. They are a special heirloom that's sees them through the early years of their lives, and its such a privilege to spend hours making these unique pieces for them. This little quilt is large enough to see her through many of her early years. Its the same size that is still serving my little nine year old. It will perfect to use on the floor for tummy time, and will be great to pull around and snuggle as she gets older and more mobile.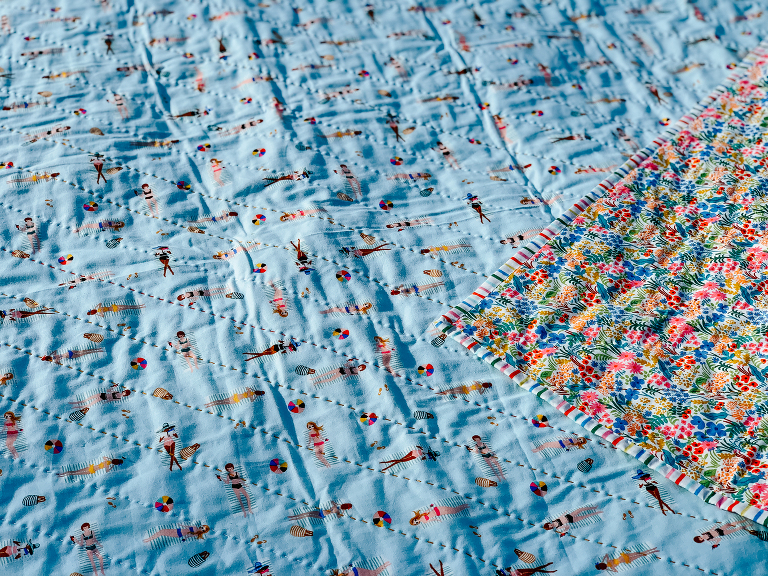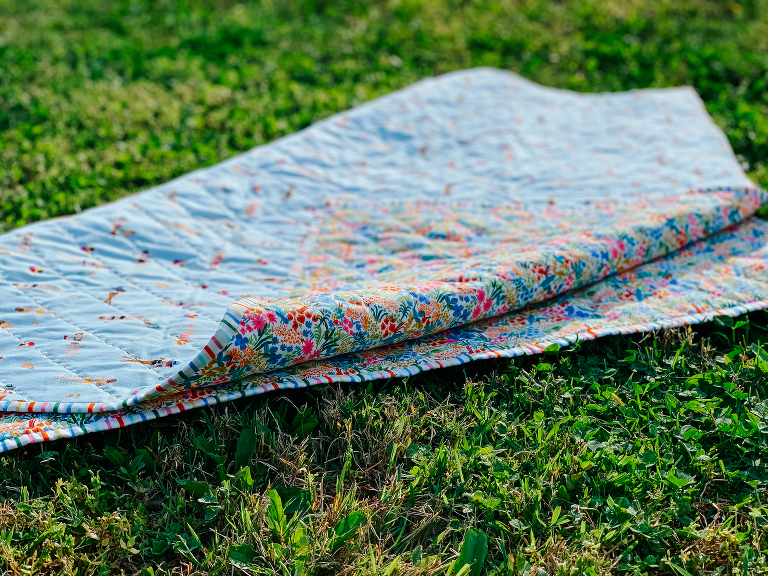 Isn't that stripe the best binding? I used a little wider binding than usual because I wanted the stripes to get the attention they deserve. That fabric is a lawn which just means its a fine woven cotton with a tighter weave and higher thread count than standard quilting cotton. Its wonderfully soft and light.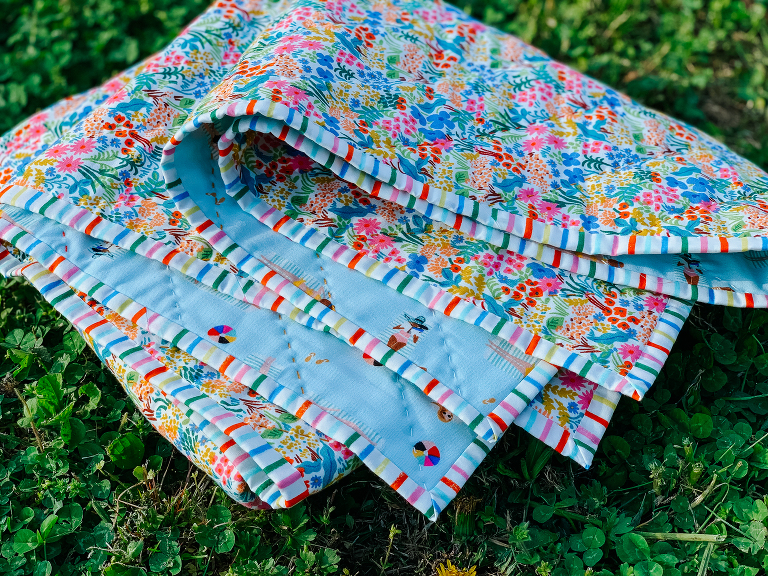 I just love baby quilt commissions! I'm onto other commissions right now, which I'll share soon. I'll be back here on Wednesday to show you a dress I made for my sweet little niece. She's as cute as a button, so you'll want to drop back in if only to see an ultra cute baby.
I hope you are having a good Monday! Here's to some sunshine in the coming days.
-Meredith