Week Five of the Holiday Craft Bash starts on Monday. We're excited to be bringing you four tutorials on the theme Wall Decor. We've all got something different, so I do hope you can pick one you love and create along with us!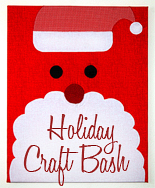 Monday: Jessica from A Little Gray with her Frosty Advent Calendar
Materials Needed:
– 1/2 yd white felt (at least 27″ wide)
– 1/2 background fabric
– Small amounts of gray, black, red, brown, and blue felt.
– Black and white embroidery floss or perle cotton
– 3.5 yards jumbo ric rac trim
– 1/2 backing fabric
– 25 2.5″ squares of felt in colors of your choice
Tuesday: Debbie from Esch House Quilts with her Christmas Tree Farm Wall Hanging
Materials Needed:
– 12 1/2″ x 18 1/2″ background fabric
– scraps for trees (approx 3 1/2″ x 5″)
– binding: 2 2 1/2″ x WOF strips
– batting and backing: 15″ x 21″
– hanging triangles: 2 4″ squares of scrap fabric
Wednesday: Me with my Santa Head Canvas
Materials Needed:
Amounts depends on the size of the canvas you purchase. My canvas is 24″ x 36″, so I will give you the needed materials based on those dimensions.
– 1 yd red fabric for background
– 1/2 yd white fabric for beard and hat trim
– 1/2 yd or large scraps of semisolid red for the hat and nose
– 2-3 skeins black embroidery floss for eyes
– 1 yd Wonder Under
Thursday: Jacey from Jaceycraft with her Scrappy Christmas Tree Mini Quilt
No picture yet, but will update when I've got one.
Materials Needed:
– FQ neutral blender or solid
– scraps (prints and solids)
– bias binding or fabric to make binding
– batting
Hope you'll join us next week!
-Meredith