I was given the incredible privilege of being a contestant for the second Super Online Sewing Match hosted by Sew Mama Sew. The winner will receive two brand new Janome sewing machines- so basically if you've been following me for any amount of time on here or Instagram, you know how desperate I was so be chosen to compete! I'm among some incredible talent, and its quite nerve wracking, but it also gives me this awesome feeling of going for something totally new and different, and I love that element of risk. You can read all about the competition and the women I'm sewing along with here.
Our assignment for Round 1 was the Sutton Blouse from True Bias. This is not a style I would typically gravitate toward simply because loose and flowy are not generally flattering looks on me. But that's why this is a competition, right? And I am not saying anything negative about this pattern because its extremely well written and put together very nicely. More eloquently, not all styles are made for all people. But the beauty of sewing is that you can customize and make things work for you! I made my primary goal the same as any other time I'm sewing or shopping for garments, it absolutely must be wearable for me. I had to make this blouse me.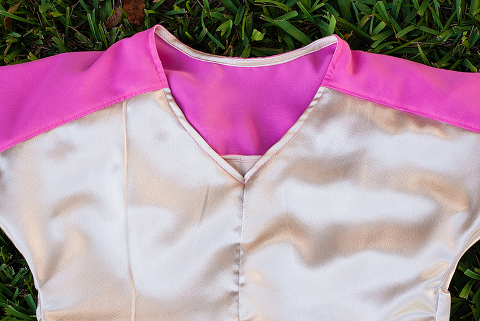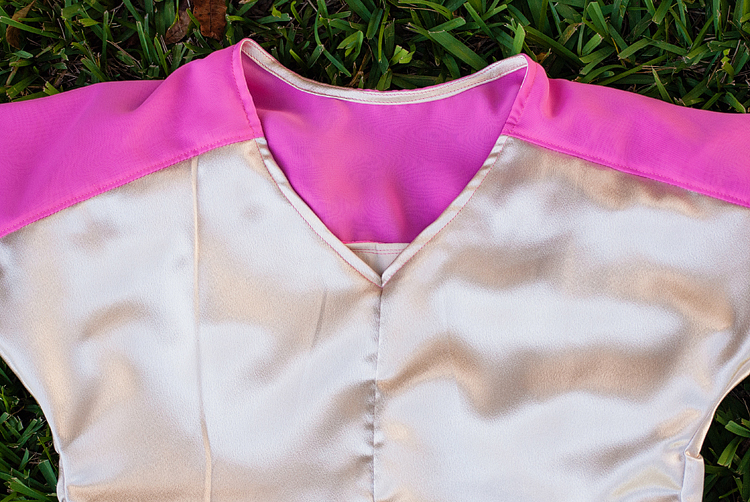 Within a couple of hours of receiving my assignment, I purchased way too much fabric and set out to work. I practiced on materials similar to what I wanted to use for the final shirt, so my muslin was made of satin which was perfect because I actually now have two new garments! For the most part, putting it together was quick and easy, and I was happy to move on to the final version. My vision for this blouse was a drapey and airy but sophisticated look. The combination of satin for the bodice and a contrast yoke in chiffon was exactly what I was going for. Its a bit of a nod to J.Crew, if you will. 
I didn't alter the fit of the blouse because the fabric I used had enough drape to give the blouse proper movement. Had I used a cotton chambray or lawn, I would have nipped in the waist a touch and added bust darts simply because more structured fabric is more complimentery in a structured garment. I think that's a perfect example of the versatility of this pattern.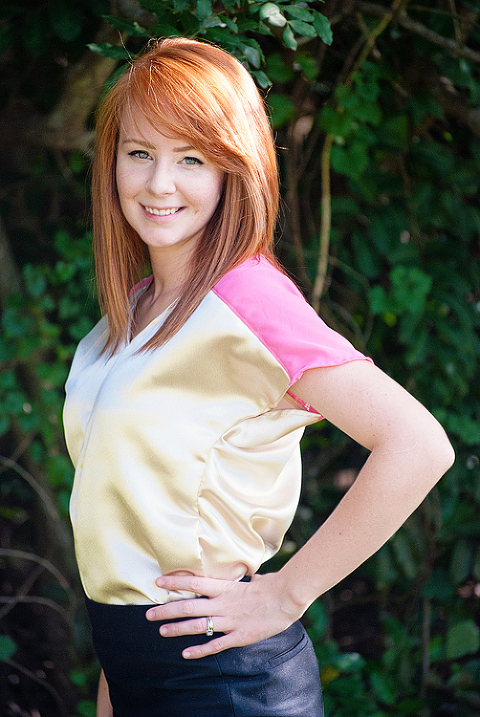 I had to pause when sewing the side seams. This garment has a split, uneven hem. This means the front and back seams really need to be finished separately which knocked out the option of French seams. You see, I'm sewing on Hello Kitty which doesn't have any finishing stitches. And going back to my objective, the garment has to be wearable for me, and I just can't do zig zagged seams or pinked edges. I'm a crazy lady, okay? So what did I do?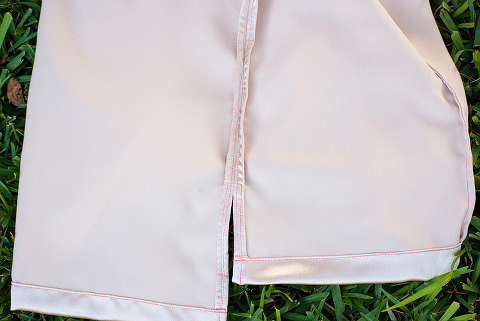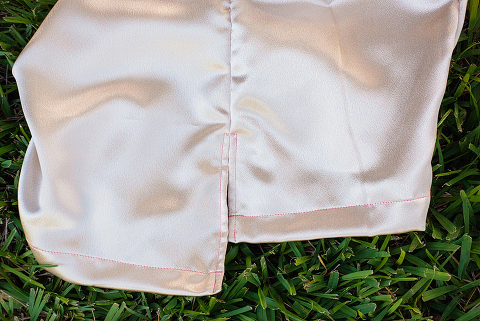 Binding! Each of the four side seams got binding, which left me with a clean interior that I was able to press open so I could still achieve the split hem. It took quite a bit longer than overlocking would have taken, but sewing is like a lot of things in life- you just have to roll with the punches and adapt. And adapt I did. And I LOVE the result.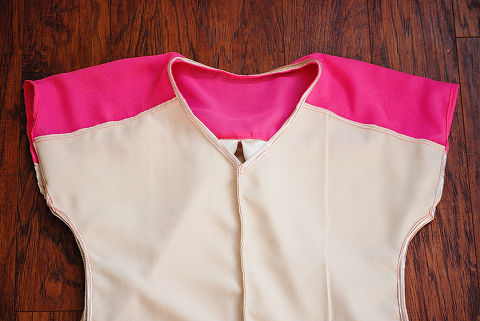 In the end, I was left with a garment I'm very pleased with. I will wear this to church paired with a pencil skirt.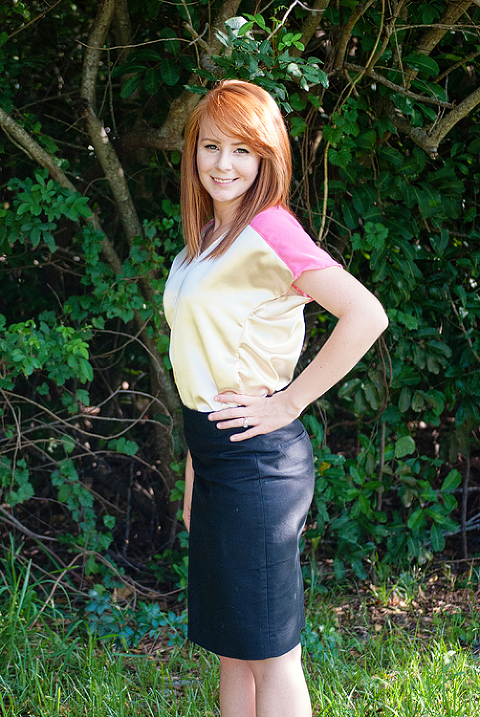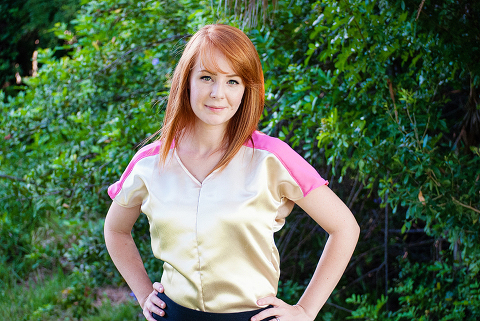 And I will wear it day to day with some skinny jeans.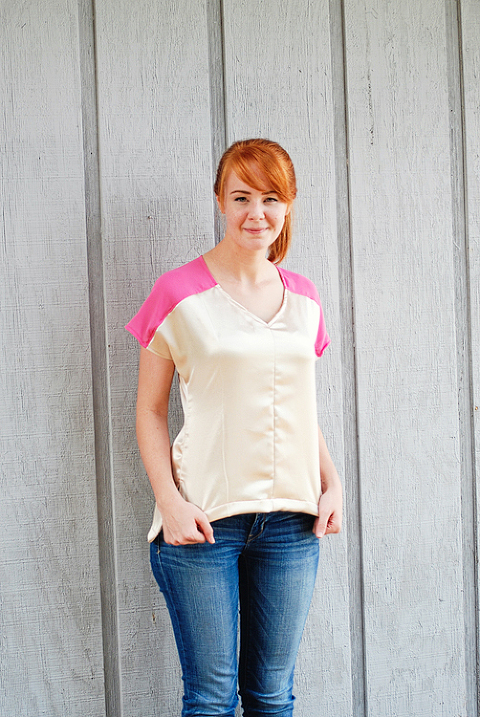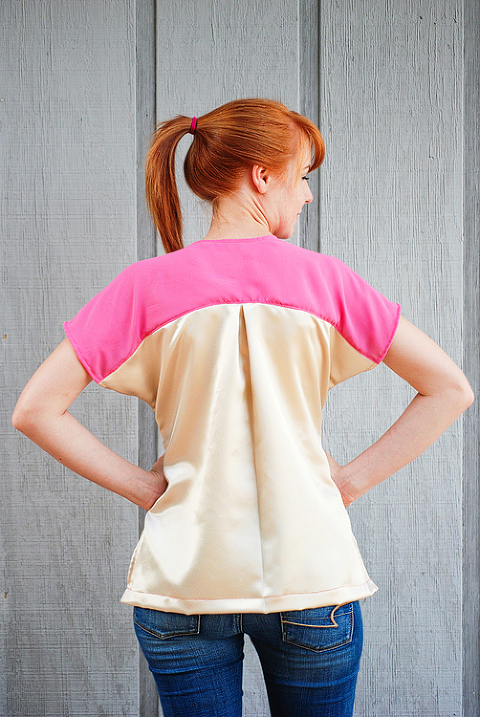 I'm so happy we were given the Sutton Blouse to make! I've found a pattern I love, and where my wardrobe was lacking in stylish tops, I now have a few more to wear. Its an awesome pattern, and there are only a million and two fabric combinations you could use to make a host of Suttons! If you are new to garment sewing, I would highly recommend this pattern to you. You'll be able to make it, and you will likely learn a few things along the way (which is my favorite kind of pattern).
I'm so excited to see what the other ladies are making! I know competition will be fierce. Be sure to check the Sew Mama Sew blog for a roundup of our blouses and to see who will be moving onto round 2! Fingers and toes are crossed!
-Meredith