My wonderful doctor was able to get me in for an anatomy scan before Christmas!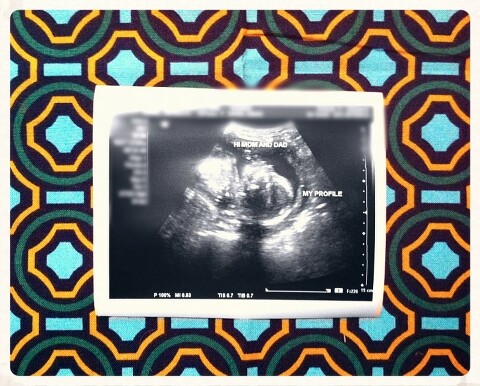 That's our boy. And I have to tell you, I kept myself from saying little boy because the doctor who did the ultrasound (which lasted about half an hour) could not stop commenting on the whopping size of this child. He is measuring two weeks ahead! I wish I had a full body shot of him, but he was incredibly active throughout the whole scan! This was the best picture we got.
I've been head over heels in love with this baby since before I was even pregnant. How long we have wanted this child! And prior to getting pregnant, I had always wanted girls. Why? Because the only two men I've been around are my husband and father. I have two sisters. I just never knew what on earth I would do with a boy. However, since finding out we were actually expecting, I haven't had a preference one way or the other. So today when he told us we would be having a son, I was just as overjoyed as I would have been if we were having another girl.
Anyway, most of the ultrasound was measuring baby, and checking on his organs and bones. But peppered throughout the whole thing were comments about how huge baby is already (and how shockingly well endowed he apparently is, which I'm already thinking is going to be a lot for me to handle :/ ), and how the doctor hopes for my sake that he comes at 38 weeks instead of 40. This talk didn't affect me at all until I got home and really began processing life with a son…and laboring to get that son into the world. I would by lying if I said I'm not at least a little worried that I'll be birthing a linebacker.
Know this, that this is my bare honesty. Sheer joy with a bit of hesitation because of my own lack of knowledge on boys. But I love this boy entirely. I cannot wait to meet him!
My husband and daughter are also over the moon. Layla has been wanting a brother for a very long time. She has had it in her head for a few months now that this baby's name, regardless of gender (though she has insisted without hesitation that Baby would be a boy), is Paper Bag. What? Yeah. I don't know. I don't even think she knows. But when she gets something in that noggin of hers, it sticks around for a long time. We're not revealing his name until May, but I can assure you, his birth certificate will not read "Paper Bag Daniel".
I want to tell you thank you so much for being so patient with me over the past four months. They've not been the easiest four months of my life, and now we all know why: I'm growing a whopper. I've very recently been able to get back to sewing, and while I feel like I move at snail's pace compared to what I did before, I'm so thrilled to be reunited with my sewing machine. Along with making curtains (so many curtains) for a client, I've been making some Washi Tunics. I have found that they make stellar maternity tops, and by the time I finish up this latest batch, I'll have nine of them! I can't wait to show them off on here; my blog has been such a sleepy place of late.
So I'm back and ready to show you lots of goodies. Hopefully I can get some good pictures of those tops for next week, and then I'm sure I'll be sewing up a storm for Baby!
Have a wonderful weekend!
-Meredith