Good morning! I'm so excited that it's Friday! I've had an amazing week. My hoosband and I went on a mini vacation for our anniversary and we have had the best time. I didn't sew a single stitch for three days! That said, I have a lot to catch up on since I had some really unrealistic expectations that I would be doing plenty of sewing while we were away. I don't regret it though, because we really needed that alone time. I hope you had a wonderful week as well. Are you ready for a preview of next week's projects for the Holiday Craft Bash?! I'm so excited to share these projects with you, along with the corresponding Material Lists!
Stocking Week
Monday: Jessica from A Little Gray (Movie Reference Phenom)
I don't have a picture of Jessica's stocking just yet, but I want you to know that it rocks! She is making a Bumble stocking [he is the abominable snowman from the classic movie, Rudolph]. If I don't get a picture up this weekend, please be sure to check out her tutorial this Monday!
– 1/2 yard dark outer fabric, solid or nearly solid
– 1/2 lining fabric
– Small amounts (FQ or less) blue felt and white felt
– Red scrap
– Gray scrap
– Black red and gray embroidery thread or perle cotton
– Fusible web
Tuesday: Debbie from Esch House Quilts (Applique Extroidinare)
– Assorted scraps for the body of the stocking – 1/2 – 1 yard
– Cuff:  15 1/4″ x 8″
– Applique fabric for name:  2″ x 6″
– Hanger:  6″ x 1″
– Lining:  2 10″ x 15″ pieces of fabric
– 2″ x 6″ two sided fusible webbing such as Steam-A-Seam
Wednesday: Me! (Handstitchy Geek)
– An old stocking
– ¾ yd of black/white graphic print (more if you are using a directional print)
– ¾ yd of red fabric
– Batting (enough to cut two pieces the size of your old stocking, plus some for the lip of the stocking)
– A few skeins of red embroidery floss
– A few skeins of white embroidery floss
– Embroidery Needle
– Scissors
– Pencil
– Safety Pins 
 Thursday: Jacey from Jaceycraft (Color Guru)
– 1/2 yd lining fabric
– 1/2 yd fusible interfacing (SF911 or SF101 are recommended)
– 1 FQ fabric
– 11″ x 18″ patchwork made from scraps
The Prize
For those of you who wish to participate with us this week, we will be offering up this wonderful bundle from Sewn Studio!
This bundle includes 13 colors of wool blend felt in 12″ x 18″ pieces and 5 colors of Perle cotton wound up in balls. We will choose our first winner on Monday, October 22nd, so be sure to get those photos in the Flickr pool!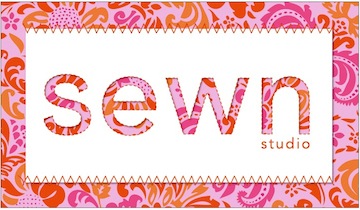 Sewn Studio is a modern fabric store and sewing louge in Cincinatti. They carry a load of fresh and trendy fabric including quilting-weight cottons, 100% organics, cotton voiles, flannels, velveteens, laminated cottons, corduroys, ruffle fabric, ginghams, and wool-blend felt. They also have a plethora of notions. Yes, they have all their bases covered! Sewn also offers a variety of workshops and classes to enhance sewing skills on every level. Their online shop is up and growing everyday so go and check it out here!  
Now go gather up materials for the project[s] you want to do! Remember there are prizes involved for those of you who choose to participate in our Flickr group, so be sure to post pictures there. You can access the Holiday Craft Bash Flickr group by clicking on the button that is on each of our blogs. You can also grab the link for your blog or website under the button on the sidebar of my page if you would like to let others know you are participating with us!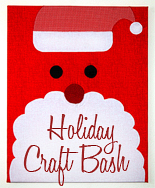 We are so looking forward to crafting with you! Have a beautiful weekend!
-Meredith