I'm happy to report that I've gotten my quilt backing sewn together and have basted the Spinning Stars Quilt. I'm so in love with the lush red woodcut print from Anna Maria's Innocent Crush line.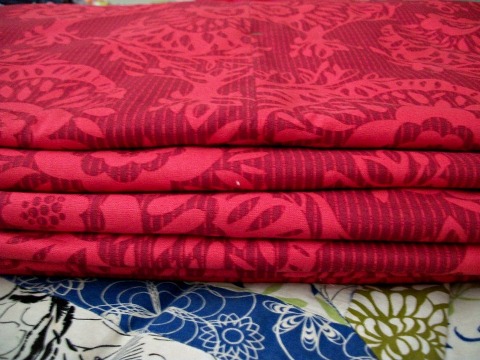 Its one of my all time favorite prints – top 3 for sure! Justin loves it too. I'm thinking we'll be turning the quilt over every now and again just to enjoy the back. Gosh, I love it! And what's even more awesome is that I have over 3 yards left over from the backing fabric, so we will have matching pillow cases! Woot! I'm planning on having a ton of pillows to go with this quilt. As a child, I remember loving beds in catalogs that were loaded up with pillows. I've always wanted that, and being that this is such a special made-with-love quilt, I'm justifying the making of many pillows. Anyway, I'm hoping to start the handquilting tonight while watching Smallville reruns with Justin.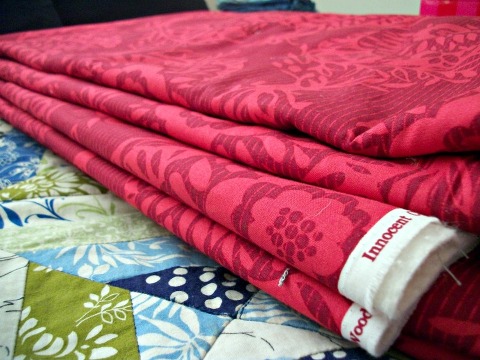 I've also cut out all the pieces from the Modern Meadow bundle to make Mildred bags. I'm attaching interfacing today, and I hope to tackle (or atleast begin to tackle) the pleating tonight once everyone is in bed. I cannot get anything this time consuming accomplished while watching Layla or when Justin is not working. It just isn't happening, so heck, I'll drink some sweet tea and stay up a few hours past bedtime.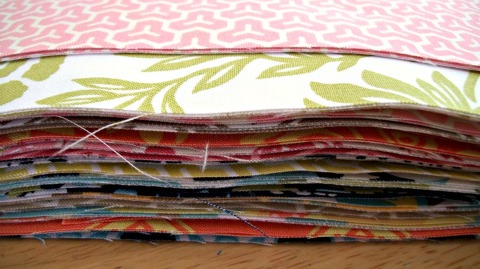 I do hope this post finds you having a wonderful day!
-Meredith